Deep ruby-garnet color; dried black fruit-raisins, spice, pepper, cocoa, licorice on the nose; black cherry, raisins, strawberry, orange peel, smoke, mocha, licorice on the palate.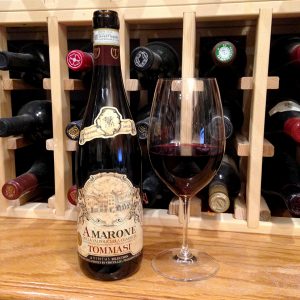 Dry; structured and savory with polite tannins and good acidity; velvety mouthfeel. Blend of 50% corvina veronese, 30% rondinella, 15% corvinone, 5% oseleta. Big wine with big, lingering finish, but not as massive as some Amarone efforts can be; many drinkers may consider this a plus. Smooth, complex with vivid fruits. Oak notes from 30 months in Slavonian barrels; at least one year aging in bottle then follows.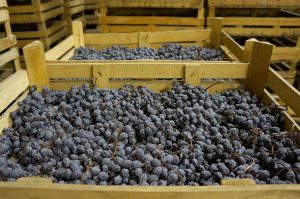 Amarone is made in a special way. Typically, the winery only selects grapes from the oldest, best, most mature vines. Grapes are picked late to ensure ripeness, then they are left in trays from October harvest until February to dry, essentially into raisins. Grapes lose up to 40% of their weight during the process. The resulting sugar concentration means wines attain high alcohol—this is 15.32% ABV. The investment in quality grapes, drying for four months, and loss of juice because of the drying process (it takes almost twice as many grapes to produce Amarone than it does to make standard wine) means entry-level Amarone sells in the $50-80 range, as does this offering.
The Tommasi family winery is one of the giants of Italian winemaking. Giacomo Tommasi founded the estate in 1902 in the village of Pedemonte, in the heart of the Valpolicella Classico region northwest of Verona, the heart of the Amarone appellation. The family now owns 234 acres in Valpolicella Classico, making them the largest land owners in the area. The family only works with grapes they grow. They are considered the standard bearer of the Amarone appellation and one of the most important producers in the Veneto. Amarone della Valpolicella, this wine, is the second-highest classification of Amarone in the Valpolicella region.
Tommasi is run by the fourth Tommasi generation, six siblings and cousins (a total of nine), who share different responsibilities. Giancarlo Tommasi is the principal winemaker; he studied winemaking at the University of Udine in Friuli. Giancario's uncle, Sergio Tommasi, manages the viticulture; he also champions planting at high density, resulting in lower yields and increased complexity and concentration.
Tommasi Amarone della Valpolicella Classico DOCG 2013 is a delicious entry-level Amarone that many will enjoy more than more assertive and expensive alternatives. Pair with hearty meat dishes, braised beef short ribs, robust pasta dishes with rich meat and tomato sauces, beef stew, lamb, big-flavored cheese, venison and other wild game. Fish and light meats do not fare well with Amarone's bold, assertive flavors. It also works paired with a nice conversation after a meal, in the same way as port or Madeira. $48-83