Dark ruby color with lighter magenta on the rim; red berries, almond, black pepper on floral nose; red fruit, red cherry, red currant tang, blackberry, almond on the palate.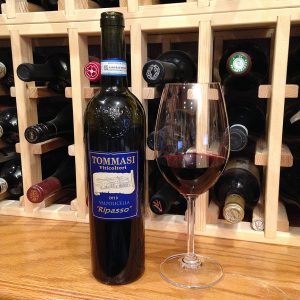 Rich, distinctive wine. Dry, medium body, reserved tannins, sour cherry-red currant tang on extended, intriguing finish. Blend of 70% corvina Veronese, 25% rondinella, 5% corvinone. This is pretty good as a pop-and-pour, and gets even better after some time with air, which dials back and smooths out some of the sour notes while leaving enough of that character to keep this distinctive and fascinating.
Ripasso sometimes is called "baby Amarone" because of its unique production method. Made in the same location in northeastern Italy as Amarone—the great wine made on partly desiccated grapes. It happens only in select, special vintages: Valpolicella Superiore wine is vinified in stainless steel for about nine days, then lays upon warm Amarone grape skins—what is left when Amarone is racked—for about 12 days, often engendering a second fermentation. As you likely discerned, "ripasso" is Italian for "repassed", referencing the time the fermented juice sits on Amarone skins and lees. Time on the Amarone remnants imparts the rich character and personality of Amarone to the wine, and gives Ripasso its own panache. The Ripasso then ages, in this example for 18 months in Slavonian oak barrels. The result is a wine that suggests Amarone, but sells for one-half to one-fourth the cost of Amarone. Delightful and delicious trade-off. Wonderful wine.
Tommasi Viticoltori is located in Pedemonte, a small village in the heart of the Valpolicella Classico region, in the northwest part of Verona. Giacomo Tommasi began with a tiny vineyard in 1902; today the effort encompasses more than 1,300 acres in four regions in Italy. It produces examples of all five levels of Valpolicella wine: (in ascending order) Valpolicella Classico, Valpolicella Superiore, Valpolicella Superiore Ripasso, Amarone della Valpolicella, and Recioto della Valpolicella (similar to Amarone, but Amarone is dry and Recioto is sweet).
Tommasi Viticoltori Valpolicella Ripasso 2013 brings rich loads of red and darker fruit to the palate—fascinating elements of slight sourness and tang, and multi-dimensional aromatics that evolve in the glass. Do yourself a favor, do not pass on this Ripasso. $23-25
Second, third photos: Tommasi winery, vineyards