Deep ruby color; red fruit, mint, herbs on the nose; cherry, some bell pepper, some redcurrant, hints of chocolate and coffee on the palate.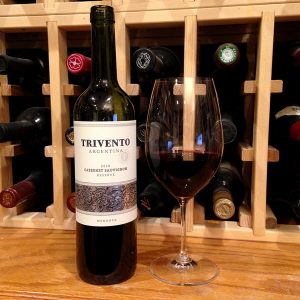 Dry; relaxed tannins, minimum oak (only 30% in French oak for six months, the remainder in stainless steel). This strives to not be an assertive, big cab. Succeeds. Very easy drinker for a cab, does not assert itself as a killer wine. While it does not offend, it does not soar. That is easily explainable marketing decision—produce a cab that does not offend people, likely pleases people who avoid palate-challenging wines, play it safe with tasty-enough grapes. Got the concept. I may prefer cabs with more character, but you may find this delightful sipper. Such is wine.
Trivento is the Argentinean property of Chilean wine powerhouse Concha y Toro, Latin America's leading wine maker. Founded in 1883, Concha y Toro produces wines at every price point, employs more than 3,000 people, and headquarters in Santiago, Chile. Concha y Toro exports to 135 countries. Excelsior Wines is a sales and marketing venture of Concha y Toro and Banfi Vintners in the United States, revolutionizing the way brands are brought to the U.S. market. They also sell and market California wines Little Black Dress and Five Rivers.
Trivento means "three winds"—Zonda, Sudestada, and Polar. Zonda winds are dry and frequently carry dust and can blow at 25 m.p.h. While Zonda is hot and dry in the lower regions, it is the main snow producer in the higher elevations of the Andes; the winds occur between May and November, the autumn through and spring seasons in Argentina. The Sudesta winds blow from the southeast; they also are dry but usually bring rain between July and October—late winter and early spring in Argentina. Polar—or Pampero—winds are blasts of cold air, often taking form as squall lines. They bring a noticeable drop in temperature and are most common in winter—May through August—but they also occur in summer, bringing welcome relief for periods of high humidity and extreme heat.


Trivento vineyards cover more than 3,750 acres and eight vineyards in the Mendoza region of northwest Argentina. All the vineyards use drip irrigation systems—Mendoza is high dessert with less than eight inches of annual rainfall. Water comes the snow-capped Andes immediately to the west.
Trivento proudly proclaims it is "The Official Wine of Major League Soccer" in the United States beginning in January, 2018. Argentineans are soccer crazy, but the likely U.S. marketing move is motivated by surveys showing MLS indexes higher for wine purchases than those of any other major U.S. professional sport.
Trivento Cabernet Sauvignon Reserve Mendoza 2016 is restrained cab that targets those who want an easy drinker with reserved tannins and red fruit flavors. Pair with grilled or roasted beef, lamb, venison, other wild game, red-meat-based pasta dishes with tomato sauce. Very nice value-for-price position. $10-11