Medium purple color; blueberry, plum on the nose; blackberry, blueberry, plum, black cherry, raspberry, chip of chocolate on the palate.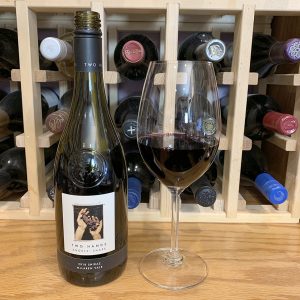 Dry; rich, full in the mouth. Sweet, round tannins; moderate acidity; largely balanced. Medium-full body. Made to be plush, people-pleasing, soft, fruity, juicy—although there is some intriguing tang and sourness at the very far end of the finish; 14.2% ABV.
Two Hands is a quality maker in the Barossa Valley and McLaren Vale, Australian wine regions near the South Australia city of Adelaide (Barossa is to the northeast, McLaren to the south) with a wine tradition dating to the 1830s. The region is best known for shiraz. The valley (vale) is named either for John McLaren, manager of the South Australia Company, or surveyor John McLaren, who surveyed the area in the late 1830s; the two McLarens were not related. Historians can argue.
The US importer, Terlato, notes: "Two Hands was established in the summer of 1999 with the aim of making the best possible Shiraz-based wines from prized Shiraz growing regions throughout Australia. The intention was, and still is, to showcase the diversity of Australian Shiraz by highlighting regional characteristics and allowing the fruit to be the primary feature of the wines. 'Two Hands' refers to the very personable approach taken with each parcel of grapes, no matter how big or small. The wines are carefully guided through the viticulture and winemaking process by Proprietor and Managing Director, Michael Twelftree and his dedicated team."
Two Hands Angels' Share Shiraz, McLaren Vale 2018 is supple, flamboyantly lavish dark fruits. Rich, fruity, lush, silky easy drinker. Excellent mouthfeel. Delicious. Pair with gourmet burgers; meat lovers pizza; cheese pizza; lamb with mint sauce; lamb chops; grilled steaks; beef stew. $33