Medium copper color; strawberry, red berries, cherry, roses on the nose; raspberry, cherry, strawberry, watermelon on the palate.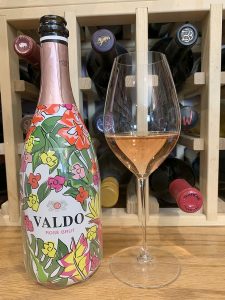 Brut; medium body, pleasant texture; rich flavors, hint of minerality. Fine perlage. Balanced with interesting interplay of taste elements. A level above the average vino spumante. Blend of 75% nerello mascalese, 25% glera (the varietal used to make prosecco). Grapes from Veneto and Sicily. Three months of Charmat ageing, followed by two months in bottle. 11.5% ABV
The grapes are soft-pressed and fermented in temperature-controlled stainless steel. The technique maintains a fruity bouquet with elements of raspberry and red fruits. This is a quality spumante, which is Italian name for their sparkling wine. It is not a prosecco, although one-quarter of the juice comes from glera, the principal grape of prosecco.
Valdo, part of the Bolla Family of wines, is one of the leading makers in Valdobbiadene. Valdobbiadene is a leader in prosecco and sparkling wines in Italy. Befitting their position in the market, Valdo commissioned famous Italian designer Fabrizio Sclavi to design the striking sleeve that wraps around the entire bottle. The package of a quality sparkling and a high art bottle makes this effort compelling.

From the website: "Valdo is the oldest winery of Prosecco in Valdobbiadene, founded in 1926 by the Societa Anonima Vini Superiori and purchased by the Bolla Family in 1938. Over 90 years of continuous innovation with an ongoing quest for quality and devotion to respecting the vineyards & wine-making traditions of the region, has helped to secure Valdo's position as one of the leading and most trusted Italian wineries specialized in Prosecco and sparkling wines."
Valdo Floral Rosé Brut NV is a bright, delightful, substantial rosé. Easy drinker that invites you to take another sip, and—at 11.5% ABV—you can. Beautiful bottle, combined with its tasty flavors, can make it a star as an aperitif or a celebration libation for a crowd. The rich copper color contributes to that experience, too. Will pair with about any fare you throw at it save for rich beef, and even then, maybe. $16-19