Deep ruby color; cherry, cedar, blackberry on the nose; black cherry, subdued blackcurrant (after eight years), plum, raspberry, dark chocolate on the palate.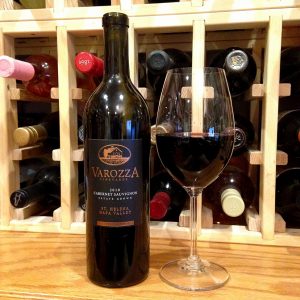 Dry; sweet tannins (likely abetted by bottle age); balancing acidity. Only 250 cases were produced, and this came from one of the "patient shelves" in my wine fridge, so it is unlikely you will find this in wine store. Varozza, however, is quality maker and you can pick up a new effort and enjoy, or put down for several years as I managed somehow to do.
Smooth easy drinker now, but it was reviewed as such when released, too. Young, it had grippy tannins according to reviews, but this is evidence of the mellowing affect of bottle age. The tannins are delicious, having done their aging work. Made by winemaker Kristy Melton, 100% cab grapes from some of the oldest cab vines in Napa; dry farmed to concentrate flavors even more.
Varozza is Napa Valley soul. One hundred years of winemaking, five generations, calluses on hands, mud on boots, lovers of land and vines. Varozza is 38 stunning acres of family-farmed acres that include some of Napa's oldest vines. They were into dry farming before there was a California water crisis. They were into sustainable management before that was the Next Big Thing.
The vineyard once received advice to pull out their ancient vines because of the reduced production of grapes. No, they said: ancient vines deliver unparalleled concentration and elegance—taste this to enjoy what that means. Varozza describes the vines accurately: "The berries are the size of a blueberry, at best. The skins are thick and tough, and loaded with color and tannin. The flavor they produce lends toward a rustic, earth driven wine with undercurrents of very black fruit. The tannins are incredibly well structured, but integrate into the wine with such finesse you would think it was made of silk." I can't add or subtract from that description.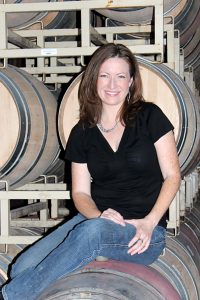 Kristy Melton is the consulting winemaker since 2010—this was her first vintage. Although she lives in Napa now, the El Paso native confesses part of her heart will always remain in Texas. She earned a BS in animal science from Angelo State University in San Angelo, Texas, and originally pursued a career in medical research. She joined the National Institutes of Health in 2000, moved to Washington, DC and began her life behind a microscope. In an unplanned trip to Napa, however, Kristy recognized an opportunity to blend two of her life's passions: science and wine. The next year she was one of only seven students accepted at UC-Davis masters program, where she earned her MS in viticulture and enology in 2007. Later she was named Wine Enthusiast Magazine's "Top 40 under 40 American tastemakers." This effort displays her talent.
Varozza Vineyards Estate Cabernet Sauvignon, St. Helena 2010 may not be available for you to purchase—the 2010 is available on line in 1.5 liter at the winery website for $180. This is superb St. Helena-Napa Valley wine. The flavors integrate wonderfully, the tannins and oak and acidity are in harmonious, sinfully delicious balance. The fruits, after eight years, remain bright and delicious. Each sip compels you to enjoy another. Pair with the usual cabernet suspects—red meats—but this is so delicious you may be better served sipping it solo with some neutral wine crackers, maybe a cube of hard cheese, just to savor what sublime heights wine can achieve. $60-80