Deep ruby-garnet color; black cherry, blackberry, plum, lavender on the nose; black cherry, Bing cherry, plum, blueberry, pomegranate, boysenberry, chocolate, black tea on the palate.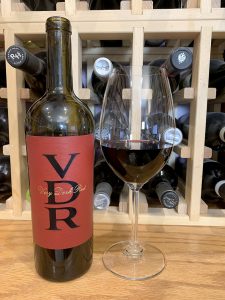 Dry; the tannins are surprisingly tame given this is blend of petit verdot and petite sirah, both tannic wines. Dense, smooth, rich in the mouth, reflecting the petit verdot. Some balancing acidity, but this goes the route of slight sweetness, perhaps from residual sugar, and relatively high alcohol—15% ABV. The alcohol and ripe fruits contribute to the touch of sweetness. There is some oak, but it is well behaved: 10-14 months in French, American, and Hungarian barrels, 30% new. The wine is well named. The color is almost black, not unexpected with these two, dark, thick-skinned grapes.
The grapes are grown in the Hames Valley at the southern edge of Monterey County, in the foothills of the Santa Lucia Mountains. VDR's vineyards are on the eastern side of the mountains and, thus, are not pummeled by Monterey's famed afternoon winds, but this is Monterey, so there is wind. The winery touts its commitment to the environment, featuring a wind turbine on its website that provides 100% of the winery's electricity, plus 125 homes in the local community. It is recognized as Certified Sustainable.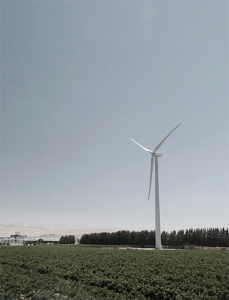 The website notes: "Our commitment to environmental stewardship of the land and the community is paramount in every decision we make. From the vineyard to the winery and beyond, we are continually adopting new and improved practices that favor a sustainable future for generations to come." All well and good, but this is packaged in a very heavy, non-eco friendly bottle.
This is a label of Scheid Family Wines, an operation started by patriarch Al Scheid in 1972. In the beginning, Scheid only sold grapes to other wineries. It has grown into a successful family winery that bottles five different labels: Scheid Vineyards, District 7, Metz Road, Stokes' Ghost, Sunny With a Chance of Showers, and VDR.
VDR Very Dark Red Proprietary Red Blend 2018 is rich, big, and—yes—very dark. Plenty of ripe, dark fruit flavors unencumbered by significant tannins. Framed by oak. Some sweetness from ripeness, alcohol, and likely a dollop of residual sugar. Concentrated. Over-the-top flavors. If you like Apothic Dark, you will enjoy this, although this is more refined. Made by an environmentally conscientious winery, as you expect from Scheid Family Wines. You can pair this with food, but wines of this genre are first made to be enjoyed sipped by themselves, maybe abetted by some strong cheese, a toasted baguette, convivial friends and knee-slapping humor. Food pairing could include grilled beef; beef stew; lamb; veal; slow-cooked brisket; barbecue; wild game. $23-25