Pale gold color; pineapple, mango, milk chocolate on the nose; ripe peach, pear, apricot, honey, green apple, Meyer lemon, lime, beeswax, minerality on the palate.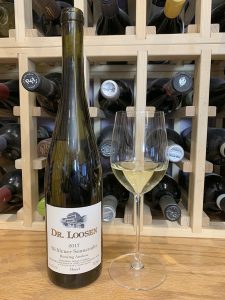 Sweet, but by no means cloying, with excellent balancing acidity. At least 50% of the berries affected by botrytis, yielding a wine with concentration and intensity. Lush. Charming. Delicate. Succulent. This clearly is a wine people who don't enjoy sweet wine will enjoy, and it will change your mind about sweet riesling. With its great acidity—which interplays deliciously with the sweetness—this is built for cellaring for at least a decade.
Botrytis also is called "noble rot." It is a type of fungus that shrivels wine grapes, which winemakers have turned into a good thing. German rieslings like this one, sauternes from Bordeaux, and tokaji aszu from Hungry are made from botrytis-affect grapes. The fungus is related to fungus in penicillin, Stilton blue cheese, and athlete's foot. Which doesn't sound very appetizing, but with wine grapes it turns the berries almost into raisins without affecting the acidity. You get the magic of sweetness paired with cutting acidity, one of the holy grails of premier winemaking.
Auslese grapes are hand-picked (a requirement), usually with some botrytis. Auslese means "selected from the harvest" and is pronounced OWS-lay-zuh. The grapes are picked late in the harvest to concentrate the sweetness. Auslese is riper than Spätlese in the Prädikatswein category of the German and Austrian wine classification. It is too light in body to be a go-to dessert wine by itself, but it can work paired with green apples, strawberries, citrus at the end of a meal. The sweetness is a natural pairing with spicy foods where the honeyed sweetness is superb counterpoint to the heat of the entrée.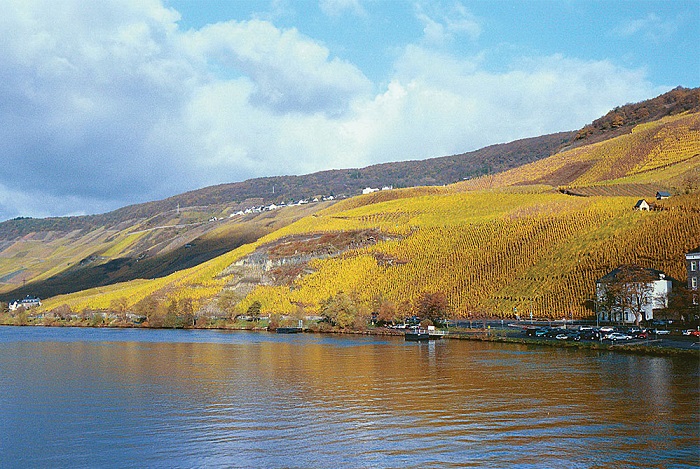 The vineyard name, Wehlener Sonnenuhr, means "The sundial of Wehlen" in German. The vineyard is famous in the Mosel Valley for its steepness and rocky, blue Devonian slate soils. The vines average about 70 years in age and grow on their original rootstocks. The riesling grapes for this effort ferment entirely in stainless steel. Fermentation is stopped by temperature control to preserve sweetness and tamp down alcohol. This is just 8% ABV.
Ernst Loosen is the winemaker. The Dr. Loosen estate has been in the Loosen family for more than 200 years. The tech notes: "When Ernst Loosen assumed ownership in 1988, he realized that he had vines in some of Germany's best-rated vineyards. To maximize the potential of those vines, he severely restricts crop size, uses only organic fertilization, insists on very strict fruit selection, and employs gentle cellar practices with a minimum of handling."
Dr. Loosen Wehlener Sonnenuhr Riesling Auslese, Mosel 2017 is delicious, extremely well made auslese from a premier vineyard on the Mosel. It emphatically demonstrates how sweetness balanced with stellar acidity makes for a wine people who do not think they like sweet wine will thoroughly enjoy. This is not the sugary, cloying sweetness of plonk. This is wine made by superior grapes, from a celebrated vineyard, by a renowned winery. It is why many wine professionals rank riesling among the finest wines in the world. Pair with spicy foods; Asian cuisine; shellfish; pork; cured meat and charcuterie board; fried chicken; hard cheese such as comté or gruyère, goat cheese. $65-72