Deep violet-black color; blackberry, plum, bell pepper on the nose; raspberry, plum, blackberry, bell pepper, black pepper, oak and vanilla, leather, chocolate on the palate.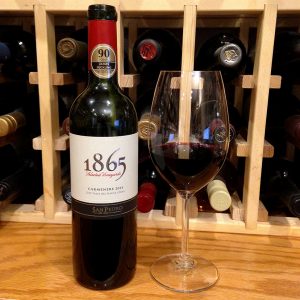 Dry; medium-full body; rich and chunky in the mouth with firm but silky-sweet tannins and balancing acidity. The Maule Valley is noteworthy for its hot climate and rocky terrain, thus producing wines that are fruit-forward and high alcohol—this is 14.5% ABV. As with so many wines, this improves with some air. Decanting is not emphatically recommended, as I do with some, but should be pondered. This tasting spent time in large glass with frequent swirling.
Carménère is a descendant of cabernet frank, which is closest to its taste profile. It also is a cousin to merlot, but has more tannin and body. It also is a cousin to cabernet sauvignon. A blending grape in Bordeaux, carménère fell out of favor and once was thought extinct. Then it was discovered almost half of the "merlot" in Chile was, in fact, carménère. Similar to malbec's story in Argentina, carménère found a home in Chilean winemaking. Chile makes about three-fourths of all the carménère wine in the world and is the fifth most planted grape in Chile.
Carménère is something of an acquired taste. It has some of the taste of merlot, but also brings the structure and tannin of cabernet sauvignon. Vineyard managers have to work to contain its herbaceous qualities by avoiding over-watering. They also have to cross their fingers late in the season—carménère ripens even later than cabernet sauvignon and three-to-five weeks after merlot. The dryness and heat of the Maule Valley ameliorates both of these issues. The name likely comes from the French word for crimson—carmin—reflecting the brilliant crimson color of its leaves in the fall.

1865 references the year Viña San Pedro was created and is the label for the top-of-the-line for Viña San Pedro, although this "Selected Vineyards" is their entry-level carménère; they also produce a "Single Vineyard" carménère that is higher quality and subsequently more expensive. When first conceived in 2001, all 1865 wines are single vineyard efforts; this breaks that mold, likely because Viña San Pedro had enough good juice left over from the single vineyard effort to blend into "Selected Vineyards."
According to the website: "Viña San Pedro was founded in the Curicó Valley in 1865 by the Correa Albano brothers, who were pioneers in bringing varieties from the Old Continent to the Valley. San Pedro is one of the most important wineries in Chile and one of the country's most significant exporters, with a presence in over 80 markets across five continents with its brands: Altaïr, Cabo de Hornos, Sideral, Kankana del Elqui, Tierras Moradas, 1865, Epica, Castillo de Molina, 35 SUR and GatoNegro."
The main Viña San Pedro operation is located in Molina, in Curicó Valley, 120 miles south of Santiago, where it has almost 3,000 acres under vine, one of the largest continuous vineyards in South America. Viña San Pedro is the third largest viticultural group in Chile and the country's second-largest exporter of Chilean wine.
The winery has a long commitment to environmental responsibility. It also has a company-wide commitment to social responsibility that includes, "a more holistic commitment to support for its workers and their families, as well as a long-term contribution to the communities where San Pedro farms."
Viña San Pedro 1865 Selected Vineyards Carménère, Valle del Maule 2015 is a superb entry-level introduction to carménère. Tasty fruit, silky-sweet tannins, some balancing acidity. Plenty to pleasure your palate here, ending with a nicely long finish. Pair with roast pork; lamb with mint; hearty stews; roast beef; roasted chicken; turkey and duck; flavorful fish and seafood. $14-18