Medium purple color; dark fruits, blackberry, red plum, cherry violets on the nose; red plum, cocoa, cherry; red fruits, blackberry, vanilla on the palate.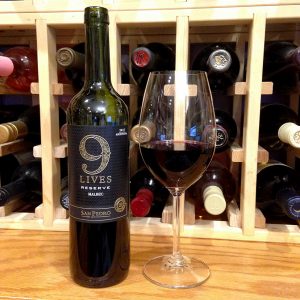 Dry; fruit-forward with soft, ripe tannin; nice balance; average acidity for a malbec (3.65 pH), which contributes to its distinctive softness and easy drinkability; 13.5% ABV.
Viña San Pedro is a Chilean winemaker established in 1865, but the grapes for this effort come from Mendoza, Argentina, the epicenter of the malbec world today. The Correa Albano brothers, pioneers in bringing Old World vines to South America, founded the winery in 1865. Today, Vina San Pedro is a major Chilean maker, exporting to more than 80 markets across five continents with its brands: Altaïr, Cabo de Hornos, Sideral, Kankana del Elqui, Tierras Moradas, 1865, Epica, Castillo de Molina, 35 SUR and GatoNegro (this wine).
Viña San Pedro is part of the VSPT Wine Group, Chile's third largest viticultural group and the second-largest exporter of Chilean wine. Viviana Magnere is the GatoNegro winemaker. She started at Viña San Pedro in 2006 and became the leader of GatoNego—Viña San Pedro's most global brand—in 2014. Viviana Magnere graduated as an Agricultural Engineer at Universidad Católica de Chile, specializing in enology.
It appears GatoNegro may be moving away from its black cat logo. There is no image or mention of a black cat—or the words GatoNegro—on the label. The emphasis now is on 9 Lives. Such is the maturing of a brand. It also is uncertain where this was made: in Argentina where the grapes were grown, or in Viña San Pedro's Chilean facilities.
Viña San Pedro GatoNegro 9 Lives Reserve Malbec 2017 is delicious malbec, an amazing value. It is not complex, but that does not matter because it is such an easy drinker with soft tannins and vivid fruit. This is exemplar of why Argentine malbec has stormed the wine world the past decade or so. Not to mention an oh-my-gosh quality-to-price ration. Pair with lamb; beef; venison and other wild game; pasta; semi-ripe cheeses. $8-11