Deep ruby-garnet color; black cherry, red berries, brambles, plum on the nose; tart black and red cherries, blackberry, licorice, tobacco, oak spice on the palate.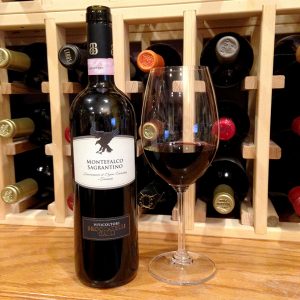 Dry; very chewy tannins—sagrantino is celebrated for its tannin—and this bottle definitely benefits from decanting, the winery itself suggests it. After decanting the tannins exhibit slightly sweet notes. Big, dense wine with heavy black-fruit and savory flavors with plenty of oak. Both the tannin and tart fruit are tamed somewhat by the decanting, but this remains a wine built for pairing with bold food flavors, as my pairing notes below further explain. Balancing acidity, medium-long finish. The more the wine is exposed to air in decanting and in large glass, the more approachable it becomes.
Sagrantino is a deeply colored grape variety that produces central Italy's most tannnic red wines. The region of Umbria, particularly around the town of Montefalco, is where sagrantino has flourished for centuries; this effort comes from there. Sagrantino is rarely grown outside this region.
Sagrantino di Montefalco is the pinnacle of this grape's production; wines from this DOCG—such as this one—must contain at least 95% sagrantino juice. This effort appears to be 100%. Because of its puckering tannins and affinity for oak, local regulations require this to age a minimum of 30 months before release. So this eight-year-old bottle is still a sagrantino youngster.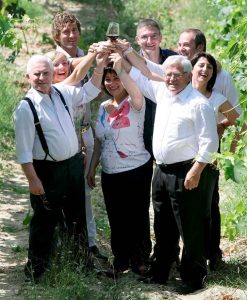 Viticoltori Broccatelli Galli was founded in 1951 by Marcello Broccatelli and Quintilio Galli. Today, Marcello Broccatelli and six grandchildren run the operation. The families farm almost 200 acres, all in Umbria. Assisi is the Umbrian town most people know because of St. Francis; Assisi is about 20 miles north of Montefalco. Umbria is in central Italy; Montefalco is about 100 miles due north of Rome. Umbria is the only Italian region that does not border the sea or another country. The River Tiber runs through it.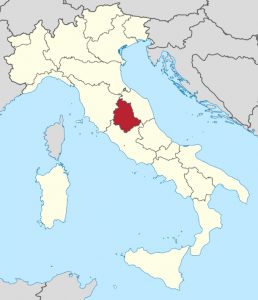 Viticoltori Broccatelli Galli Montefalco Sagrantino DOCG 2010 is a bold, assertive, big-body red wine. Take the winery's own advice—decant, serve in a large glass for even more swirling and air exposure. If your predilections swerve more to merlots and etherial pinot noirs, you will find this wine challenging. Give it a shot anyway, especially paired with rich beef dishes where the tannins and bold beef flavors will sidle up together for a palate pleasing dance. Pair with grilled and roasted beef, venison and other wild game, lamb, barbecue, roast chicken, sausage, pizza, rich Italian foods of all sorts, especially those made with tomato sauce, pasta, aged cheeses. Famously pairs with black truffle dishes and mushrooms in general; Umbria is famous for truffles, by the way. Surely truffles are staples in your larder. $20-30