Deep ruby color; red fruits, plum, chocolate on the nose; red cherry, strawberry, plum, blueberry, milk chocolate on the palate.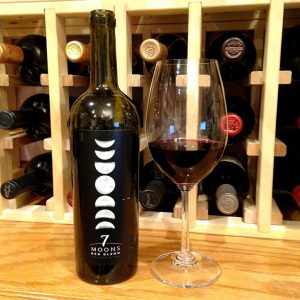 Dry (6.1 g/L RS); some acidity (3.63 pH); full body; not nearly as over-oaked as the previous vintage—a plus. Blend of syrah, merlot, petite sirah, zinfandel, cabernet sauvignon, malbec, grenache. This is an everything but the kitchen sink red blend from Lodi and other Central Valley/Central Coast vineyards. Fruit forward, ripe-grape fruitiness gives illusion of sweetness.
I thought the 2015 vintage was too jammy and too oaky, but Constellation Brands appears to have mercifully dialed back with their 2016 effort. This still is an entry-level mélange red aimed at mass market newbies to wine. One tell is a cork gimmick—there are seven different corks with the different phases of the moon and an aphorism printed on them. You are invited to collect all seven—crescent, quarter, gibbous, full, disseminating, 3rd quarter, and balsamic. My tasting bottle had balsamic moon; aphorism—"Pause. Rest. Close your eyes and find your next dream." You can visit the 7 Moons website and read them all if you are not inclined to buy cases in order to collect seven different black plastic corks with cheesy sayings imprinted on them.
This almost certainly is made in one of California's Central Coast wine factories using grapes purchased from growers throughout the region, so there are no picturesque wineries, a château, vineyards, tasting or barrel room images to grace the review. Also no charming backstory about the winery owners, winemakers, multi-generational history, and critters in the vineyard dedicated to biodiversity and sustainable farming.
7 Moons Red Blend 2016 is very smooth commodity wine, a market-driven confection rather than an expression of grape variety or terroir, but this vintage does well for what it is. Pair with barbecued chicken, burgers and sliders, pizza. $9-11