Inky dark purple with hint of blue color; plum, dark cherry, mint on the nose; black plum, black cherry on the very rich and delicious palate.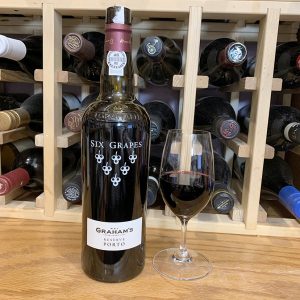 This wine is similar to the limited edition reserve wine reviewed here Link to the review, so as not to repeat, click on the link for discussion of Graham's history and the story behind making of Porto wines in Portugal. This effort is not as rich and layered as the more expensive one made with old vines, specific vintages, and specific blocks from a specified place, but the differences on the palate are nuanced. You will be pleased with either pour. This is a delicious porto.
Graham's portos traditionally are sweeter and more fruit-driven than others, and this qualifies with an explosion of ripe fruit in the initial attack through the lively, extended finish. Sensationally smooth on the palate, delicious, and it virtually demands you to take another sip. At 19.5% ABV, some resistance is advised somewhere down the line.
W. & J. Graham's Six Grapes Reserve Porto is part of Graham's delicious line of Six Grapes Portos. It is the entry-level bottle, but still delivers superb quality and rich tastes. The rich sweetness balanced by acidity and tannins are a hallmark of this world-leader in fine Porto wines. Pair with cheese, but you also can pair with dark chocolate, and—of course—you can just sip it solo to appreciate its fetching richness and palate-pleasuring joys amid erudite conversation. $23