Pale tawny color; dried fruit, walnuts, brown sugar on the nose; nutty flavors, caramelized orange peel, strawberry, plum, caramel, nutmeg on the palate.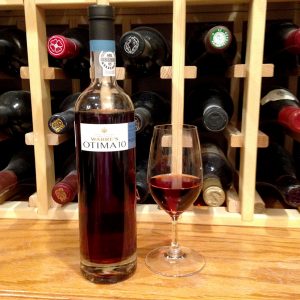 A different style of tawny port—much lighter and fruitier. Excellent acidity balances the sweetness you anticipate from a tawny port, but there is ample sweetness to complement rich deserts. Silky smooth, delicious.
Tawny port ages in oak barrels, where the oak and oxidation create its signature nutty flavors. Traditional port comes from the Douro Valley, the location of this effort's grapes. The grapes include classic port grapes: touriga nacional, touriga francesa, tinta barroca, tinta roriz, and tinto cao. The grapes are pressed and allowed to ferment for several days, achieving alcohol levels around seven percent, at which time grape brandy is added; generally comprising about 20% of the wine. The brandy raises the alcohol level—this bottle is a standard 20% ABV—but it also stops fermentation, thus preserving sweetness.
Tawny port ages 10, 20 and 40 years in barrel before release, so it is ready to drink upon release. Since it has experienced oxidation in the making, it can live for several months after initial opening. The wine does not need decanting. Some countries outside of Portugal now make port, but the best in the world decisively come from Portugal. Authentic Portuguese port is designated as "Porto" on the label.
This wine is made by Symington Family Estates, the unquestioned world leader in Porto and Madeira wines. The company was founded by Andrew James Symington, who arrived in Oporto from Scotland in 1882. He initially joined Graham's. In 1905 he was a partner in Warre & Co and in 1912 a partner in Dow's Port. In 1970, the family bought both Graham's and Smith Woodhouse. In 1989 the family became a partner in the Madeira Wine Company, at that time controlled by the Blandy family. They now control Cockburn's, Graham's, Warre's, Dow's, Smith Woodhouse, Gould Campbell, Quarles Harris, and Martinez—by far the strongest Porto portfolio in the world. They have the largest vineyard ownership in the Douro. Symington's Madeira holdings include Blandy's, Cossart Gordon, Leacock's, and Miles—making them a major player in Madeira wine.
Warre's Otima 10 Ten Year Old Tawny Port is well made, delicious, a delightful way to cap a meal. It is versatile and can be served slightly chilled as an aperitif, but it stars at room temperature paired with deserts—gingerbread, pecan and pumpkin pie, blue cheese with drips of honey, dried fruit, roasted almonds, crème brûlée, cheese cake without red fruits, chocolate and chocolate-based desserts. Great for holiday feasts, but this works year-round. $17-28 (500 ml bottle).