Deep ruby color; cherry, cedar, white pepper on the nose; black cherry, plum, blackberry, chocolate, baking spices, hint of vanilla on the palate.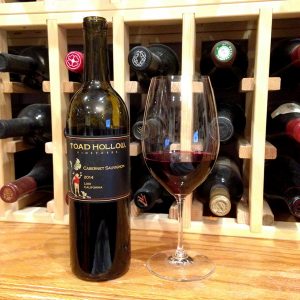 Dry; medium body with smooth tannins; adequate acidity (3.77 pH); balanced, fruit-forward. French and American oak provide background that mercifully does not interfere with the tasty fruits. This vintage brings more sophistication and nuance compared with my notes for the 2013 effort; 2014 delivered a smaller yield harvested two weeks earlier than the previous effort, and everything ripened at once. The result is more concentrated flavors and a more sophisticated pour.
That said, this is a fun easy drinker at good price point that can please a range of palates. People put off by big, tannic, overly-serious cabs can quaff this without trepidation, while more seasoned sippers also can enjoy, especially on pizza or poker-with-the-gang night when they are the vino vendor.
The Toad Hollow name comes, according to the winery's charming website, from original owners, Dr. Toad (Todd Williams) and The Dancing Badger (Rodney Strong), two friends who decided to start a winery in 1994 instead of enjoying retirement and rusting away. It remains family owned, although—from the website: "Heaven is a livelier place these days as both Dr. Toad and Mr. Badger have left their wine glasses with us here on Earth, but we know that these fine gentlemen toast us regularly, as we do them!"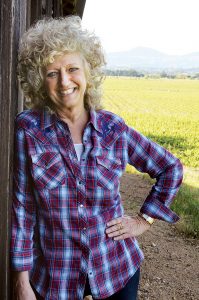 Regular readers know of my admiration of Toad Hollow's president Frankie Williams. Francine "Frankie" Williams has a colorful history that includes working for the CIA. She arrived in California in 1972 and met Dr. Todd Williams. They married in 1978 and operated a San Francisco bar named "Toad Manner." Later, they opened the Whiskey River Inn in the Sierra Foothills before moving back to Sonoma and Healdsburg, where Frankie helped manage a law firm. Then came the wine operation. After Todd passed on in 2007, Frankie vowed to continue and now enjoys her days surrounded by Russian River Valley vineyards, her long-time staff, and fellow growers hauling fruit in from Lodi.
Toad Hollow Vineyards Cabernet Sauvignon Lodi, California 2014 is very tasty, easy drinking, weeknight wine that successfully exploits the fruitiness and restrained tannin of Lodi cabernet sauvignon grapes. Toad Hollow consistently punches above its weight in its various offerings, and this bottle sustains that reputation. Pair with pizza, burgers, meat and tomato-based pasta dishes; also could work with range of foods from chicken wings, to salmon to vegetarian to dark chocolate, hard cheeses and blue cheese. $15-17