Pale ruby color; black cherry, raspberry, blueberry, herbs, violets on the nose; black cherry, raspberry, blackberry, hint of earth, spice, cinnamon on the palate.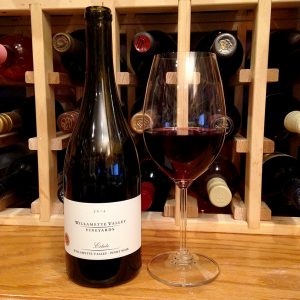 Dry; silky tannin, good acidity (3.54 pH), nice balance. Refined oak; nine months in barrel, 25% new French. A classic Oregon-style, palate-pleasing pinot. Light-medium body. Illusion of sweetness—phenolic/physiological ripeness created by ripeness of the grape skins and stems—generated by one of Oregon's warmest vintages. The ripe fruit sweetness adroitly balanced by the mouth-watering acidity and generosity of the layers of fruit. Long and pleasant finish; 13.9% ABV.
This gets better and more layered with time in large glass and exposure to air, confirmed by decanting after initial first-glass tasting on pop-and-pour. After decant, the depth and deliciousness became pleasingly more vividly expressed. Winemaker notes the fruit was picked at peak of ripeness (20.8º to 24.6º brix), then gently de-stemmed so 90% remained intact for intra-berry fermentation, emphasizing fruit-forward characteristics.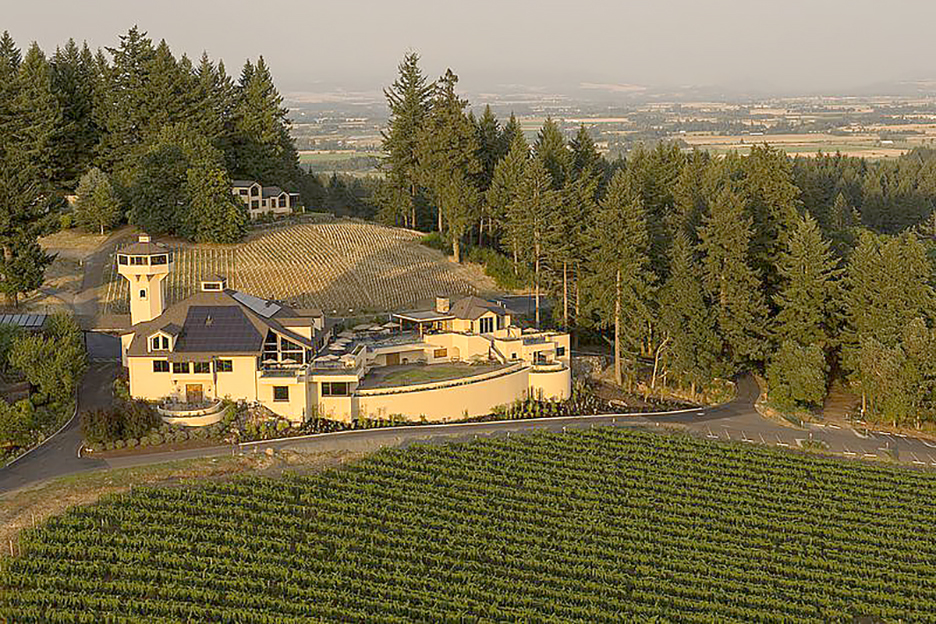 Willamette Valley Vineyards is one of the Oregon's largest operations, but WVV is not a wine factory. They are not focus-group driven to fill a demographic niche on a supermarket shelf. WVV consistently delivers distinctive quality and value. The winery also is environmentally responsible. Since 1997, WVV has been certified sustainable through LIVE (Low Input Viticulture and Enology—the international standard for sustainable agriculture) and Salmon-Safe. In 2011, Salmon-Safe recognized winery founder Jim Bernau with the first "Hero of Salmon" award for implementation of a high-impact Salmon-Safe "Sip-Save" campaign in print, retail, web, and vehicle wraps. Delicious wines, responsible winemaking. Nice. Delicious, too.
In another initiative, WVV is a pioneer in "raptor rehabilitation" of barn owls and kestrels (North America's smallest falcon). Washington has a steady supply of barn owl and kestrels because the birds nest in places disrupted by normal farming activities (hay stacks, for instance), and the Cascades Raptor Center and other agencies rescue hundreds of wild chicks. WVV places bird houses in trees around the vineyard to help control the mice population. Mice are a pest in vineyards because they burrow and harm root systems. Barn owls are voracious mice eaters, consuming four or five a night, even more if they are raising young. The owls primarily hunt by sound, making them super mousers even on the darkest nights or over ground covered with snow. WVV's embrace of organic farming means there is better chance for the birds to avoid chemicals used in conventional farming.
As many of you know, I have special place in my heart for grape farmers who embrace Mother Nature instead of the chemistry lab. I think you can taste the difference in the wine, but even if you can't, it makes you feel better drinking it. Willamette Valley Vineyards delivers on responsible agriculture and quality wine. Jim Bernau also is innovative in ownership: he believes in community-based funding. Willamette Valley Vineyards has more than 16,000 owners. The website notes: "The winery's Common (WVVI) and Preferred (WVVIP) are traded on the NASDAQ. Owners receive invitations to exclusive winery celebrations, annual dividends, savings on wine and are a vital part of telling the Oregon wine story." You can visit the website to discover how you can participate in the future.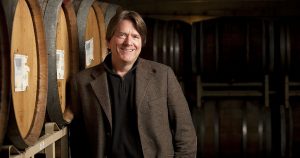 Willamette Valley Vineyards Estate Pinot Noir 2016 demonstrates why Oregon's Willamette Valley can be in the conversation about great pinots at great price points. Elegant, refined, subtle layers of fruit, beautifully fresh and bright, smooth easy drinker. This will work with wide variety of foods—lamb, duck, pork, grilled salmon and other seafood; gourmet burgers; teriyaki short ribs; sushi; baked chicken; squash soup; stuffed eggplant with lamb and pine nuts; glazed ham; vegan enchiladas; whole wheat rigatoni with roasted vegetables. $27-32
Willamette Valley Vineyards website