Medium straw color; tropical fruit, honey, lime on the nose; tropical fruits, pear, melon, lime, tangerine on the palate.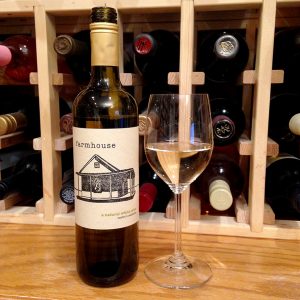 Off-dry; light-medium body; medium acidity (3.40 pH); no oak or malolactic fermentation; vivid fruits; 12.5% ABV. Unusual blend of grapes: 41% palomino (most often used to make sherry in Jerez, Spain), 25% muscat canelli (often used in semi-sweet and sweet dessert wines), 22% roussanne, 6% marsanne, 5% viognier, 1% riesling. As you can tell by the two main grapes, this could be a sweet wine. It is not. While not dry, it delivers brightness and crisp flavors and gets nowhere near cloying.
Both Cline's Farmhouse Red and this Farmhouse White employ a bushel basket of various grapes to achieve singular flavors. This is smooth, refreshing, delicious easy drinker. It has a charming simplicity in spite of its pasticcio of grapes.
Farmhouse is a Cline Family Cellars label. Fred Cline marches to different drummer. While some of his generation frolicked in the 60s, Fred learned the ways of soil and farming from Valeriano Jacuzzi—Fred Cline's maternal grandfather and one of seven Jacuzzi brothers who pioneered in American aviation and water pumps. The Jacuzzi in your hot tub is his family's work. Eschewing aircraft and whirlpools, Fred and his wife, Nancy, decided to go into the wine business in the 1980s.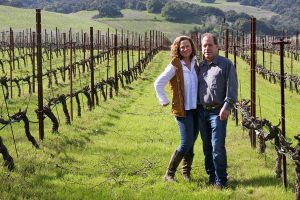 Cline's first mission was restoring old vines to grow Rhône-style wine vines, such as syrah. Later came attention to ancient—some more than a century old—zinfandel. Cline is a leader in responsible land management, sustainable farming, and historic preservation. The Clines own and restored the Dillon Beach Resort, the Mizpah Hotel, NV, and the Villa Laura in Tuscany, Italy. The California Missions Museum on the Cline Cellars grounds houses scale models of all 21 California Spanish Missions created in the 1930s for the San Francisco World's Fair.
Charlie Tsegeletos is the winemaker, assisted by Tom Gendall. According to the product sheet: "Charlie has been making wine in Sonoma for three decades. He allows grapes to tell their story. He doesn't over-oak or manipulate the wines. Instead, Charlie uses blending to highlight and showcase the best that mother nature offers from each vintage."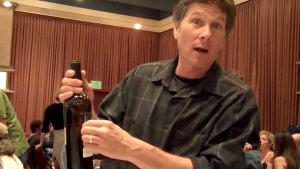 Gendall was born in Christchurch, New Zealand. His philosophy: "if you look after the vines, the vines will look after you and produce great fruit. They will tell you what they need if you know where to look and what to look for. It's our job to interpret that information and make sure the wines achieve their very best potential."
Farmhouse is a Certified California Sustainable Vineyard and Winery; website states: "Our aim is to be stewards of the land, not only through our natural and sustainable Green String farming methods, but through an awareness of bringing interconnected systems into harmony. We are committed to nurturing the land and creating wines that reflect the bounty of these complex and perfect ecosystems."
Instead of herbicides, 1500 sheep and 500 goats roam Cline's vineyards. In spring, they munch on new growth between vine rows. During summer after budbreak, they clear the weeds from the vineyard floor—they also eat vine leaves, allowing more sunlight through the leaf canopy to ripen the grapes. Visit the Farmhouse website to learn more about the many admirable practices—from natural pest control to 100% solar energy to no GMO. The video about their wooly weeders is particularly charming.
Cline Cellars Farmhouse California White Wine 2017 is different and delicious. Especially nice for those who want a touch of sweetness and honey without getting into the world of residual sugar wines. The sweetness is result of grape varieties used, also phenolic/physiological ripeness—generous and pleasurable in basic, sensual terms. Nothing wrong with that. This likely does best as an aperitif or solo sipper with lively conversation or enjoyed relaxing by pool or on the patio. It could pair with spicy Asian foods; lemongrass barbecued pork; crab balls with grapefruit salad; red curry chicken kebabs; fresh fruit plates. $11-15
Charming video about wooly weeders