Medium gold color; yellow apple, pineapple on the nose; apple, pear, some vanilla and oak, drip of maple on the palate.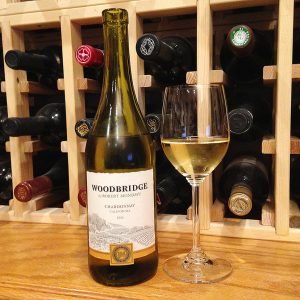 Dry; medium body. Simple, refreshing, clean. This is entry level chardonnay that is consistently drinkable with some wisps of elegance. It is not complex, but it certainly is not bottom shelf wine swill that will embarrass you when served at a light-hearted party with friends. The fruitiness and hints of maple and cinnamon will please chardonnay drinkers and a range of casual wine drinkers. The more serious types can slurp their reds and scowl at the white winers if they must in order to shore up their vino egos. Get past that, people.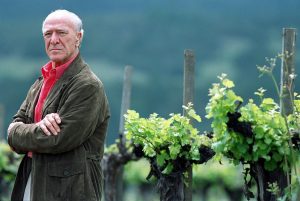 Woodbridge is the lower-end brand Robert Mondavi started more than 30 years ago in Lodi to bring his premium name to value priced pours. In later years he came to regret the move to lower-end wines, even saying "We've got to get our image back, and that's going to take time." At roughly the same time, he entered a joint venture with Baron Philippe de Rothschild of Château Mouton Rothschild to create the super premium Opus One brand. I think Mondavi's dismay about Woodbridge was unnecessary and reflects his late-in-life focus on legacy rather than his mid-life focus on being being a giant in wine world marketing. There is a place for quality low-price wine—just ask the Gallo family—and Woodbridge does this well. Relax, Robert.
Robert Mondavi now is owned by Constellation Brands, and Constellation's ability to produce at scale and their extensive marketing and distribution network means this chard is available almost anywhere at low pricing, making it ideal for a big party where you want a drinkable wine that will not require a line of credit agreement with your bank to pay for it and not humiliate you for pouring it.
Woodbridge by Robert Mondavi Chardonnay California 2015 has fruity sweetness that many wine drinkers, especially those put off by "serious wines" will appreciate. It has some oak, but it is far from being a loathed oak monster. It is a clean, straightforward, uncomplicated white wine—the sort of mainstream, middle-of-the-road, avoid-offense wine that chardonnay consistently can deliver in massive quantity, as it has done so here.
This wine can work as aperitif or solo-sipper; can pair with summer salads, grilled vegetables, fresh fruit, heartier dishes such a lemon chicken, roasted pork loin, cheese fondue; also popcorn—yes chardonnay pairs with many iterations of popcorn. In a few words, versatile and gloriously affordable. $7-8