Deep gold color; pineapple, flowers on the nose; citrus, pear, banana, honey, spice on the palate.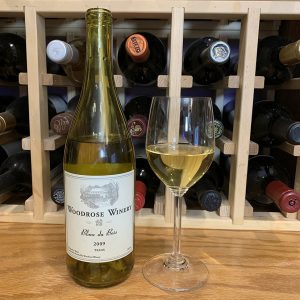 Off-dry; very fruit forward with some balancing acidity. No tannins. No oak. With its flagrant fruitiness, this comes across as a sweet wine, but my bet is there is little or no residual sugar. Blanc du bois grapes deliver tastes you do not expect, so be prepared to be amazed if you obtain a bottle; 12% ABV.
If you do get a bottle, there is excellent chance the grapes were grown and the wine made in Texas. The Lone Star State has the most Blanc du Bois vines in the world. The grape is a hybrid creation of John Mortensen, PhD, who was born in Texas but developed the grape in Florida in the 1970s and 1980s.
While the literal name in French is "white of the wood," the name honors Emile DuBois, who came to Florida in 1882 and became a grape grower and wine maker in the Tallahassee area. Mortensen sought to create a grape variety that would flourish in the hotter, wetter climate of the Gulf Coast. As an added benefit, the variety proved highly resistant to Pierce's Disease, a bane of grape growers from Florida to Texas.
The grape's lineage goes back to pixiola, a vigorous wild grape, and golden muscat, a full-bodied grape that traces its lineage to muscat of Hamburg and muscat of Alexandria. It is likely the muscat heritage gives this its full bodied fruitiness, while the piciola delivers hardiness and disease resistance. In any event, by the 1990s, Texas grape growers began planting and today more blanc du bois vines grow in Texas than any other place in the world.
The grape is extremely versatile. Texans use it to make everything from dry, to off-dry, to semi-sweet, to blush (a blend with a red grape), to port and sparkling. Some use it to make a Madiera-style wine and fortified dessert wines. It often is likened to an off-dry riesling, but it is so versatile that pigeonholing blanc du bois (often just called "blanc" in Texas) is a fool's errand.
As a relatively new grape with disease resistant qualities, blanc du bois typically grows on its own roots, although some grafting is used in areas with calcareous soils where the pH is greater than 7.0. The jury is out on whether blanc du bois can handle cold weather, but that isn't an issue along the Gulf Coast because temperatures rarely drop to less than 10 degrees.
In short, blanc du bois is an ascendant grape variety specifically created to flourish in a wet, warm environment and highly tolerant of diseases common to such terroir. You will encounter more blanc du bois in the future.
Woodrose Winery Blanc du Bois Texas 2009 is fruity, delicious, a sure winner for those who like their wine with a large dollop of sweetness, although this is a sophisticated fruity illusion of sweetness rather than a residual sugar load. This steps away from most of your conventional ideas of white wine, save lovers of off-dry and semi-sweet riesling. This can pair with seafood, spicy Asian cuisine, lemon-garlic chicken, but it really shines as a solo sipper/aperitif to be shared with friends who have never heard of this varietal. $19-22