Medium ruby color; raspberry, cherry, rosemary on the nose; dark cherry, blackberry, plum, raspberry on the palate.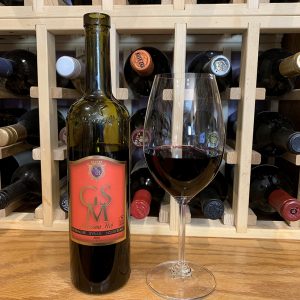 Dry; medium body; medium tannin; medium balancing acidity; hint of oak. Blend of 49% Syrah, 27% mourvèdre, 24% grenache—so maybe this label should be SMG, but GSM is the classic southern Rhône blend, with Chateauneuf du Pape and Gigondas the exemplars. This effort may not match with the French (no shame in that), but it has its charms, especially the precise fruits. You can taste each of the three fruits as they progress through your palate; 14.3% ABV.
The Messina Hof story is a saga of family focus and positive thinking: "anything is possible." In 1977, Paul Vincent Bonarrigo and his wife, Merrill, planted grapes in a vineyard in Bryan, Texas, home of Texas A&M University. The website notes: "The one-acre experimental vineyard consisted of fifty varietals including Cabernet Sauvignon, Chenin Blanc and Lenoir. Over the next few years the Bonarrigos dedicated themselves to the vineyard lifestyle practicing the tricks of the winemaking trade."
The Messina Hof name honors Paul's roots in Messina, Italy, and Merrill's roots in Hof, Germany. In 1981, Messina Hof won a medal at the State Fair of Texas with a black Spanish-cabernet sauvignon blend. That signaled growth for both the winery and the Bonarrigo family. The family planted more vineyards and welcomed their son, Paul Mitchell, into the world that year.
In 1990, Messina Hof's Angel Late Harvest Riesling became the first Texas wine to score 90 points from Wine Spectator. Other awards cascaded since. Today, Messina Hof is one of Texas's leading producers with 130,000 gallons annually using a very wide range of grapes and extensive distribution.

The winery remains in Bryan—east of Austin, northwest of Houston. Messina Hof added a tasting room and vineyard in Fredericksburg—between San Antonio and Austin, the heart of the tasting room and tourist Texas wine world. The Texas Hill Country AVA is the second-most visited in the U.S., trailing only Napa. They also have a tasting room in the historic Wallis Hotel in Grapevine—a suburb of the Dallas-Fort Worth Metroplex (most of the DFW International Airport is in Grapevine). More expansion is planned, including Richardson, TX, in 2020.
Messina Hof's generational shift began in 2010 when, after serving five years as a U.S. Marine Corps officer, Paul Mitchell Bonarrigo returned to Bryan. In 2012, the winery officially passed to the next generation with Paul Mitchell becoming the chief executive officer and his wife, Karen, the director of administration. Today, 42 years after the first plantings and dreams, Messina Hof is one of the leading wine operations in the burgeoning Texas wine industry.
Messina Hof Cellars GSM Texas 2018 delivers excellent fruit, led by syrah. Good acidity and granular tannins play with parade of the wine's fruits. Good wine, not a great wine. Pair with lamb; pork chops and pork tenderloin; smoked spare ribs; savory meats in general; barbecue. $25