Pale yellow color with hint of green; apricot, white flowers, citrus, yellow apple on the nose; apricot, white peach, grapefruit, lemon, citrus, yellow apple on the palate.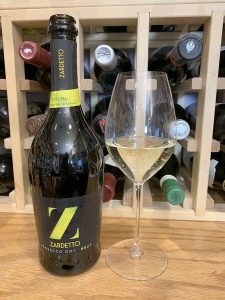 Brut—with 12 g/L of residual sugar it teeters on the border between brut and extra dry. Tiny, persistent bubbles; soft, inviting mouthfeel. Bright, tangy acidity (3.1 pH). Nice touch of creaminess and glimpse of sweetness on the finish. Light-medium body. Blend of at least 85% glera (prosecco must have at least 85% glera grapes) with the remainder chardonnay (pinot bianco). Simple—prosecco doesn't get complicated—but this nicely delivers what you come to prosecco for: an enjoyable, palate-pleasing experience both in the mouth and at the cash register. In addition, this is simple-plus because of the chard and Zardetto's wine-making skills. 11% ABV
Grapes come from northeast of Conegliano near the border with Valdobbiadene. Zardetto chills and soft presses the grapes for a short maceration and beginning of fermentation. The wine then transfers to large pressurized tanks—autoclavi—for the second fermentation for 40 days. This is classic method for prosecco-making, also known as "The Italian Method."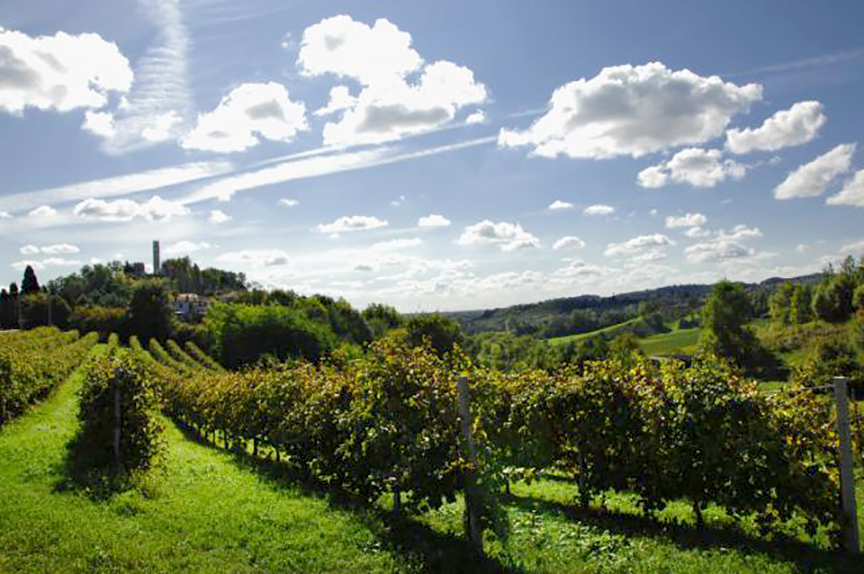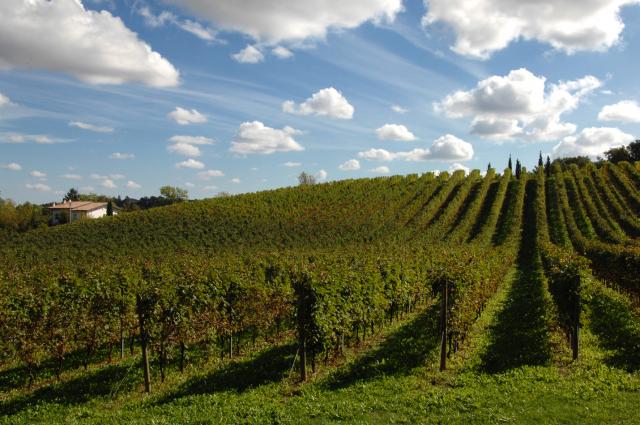 The Zardetto operation began in 1917 when Bepi Zardetto planted his first grapes. The business survived and grew through the turmoils of the 20th century. Zardetto was one of the first companies to aggressively market and distribute prosecco outside of Italy. Their U.S. distributor notes on the website: "Zardetto has been equipped with the best in modern winemaking machinery and technology, guaranteeing their ability to deliver high-quality Prosecco to a large international audience, and further enhancing the quality and flavor of the estate's impeccable collection. Today, Zardetto Prosecco is enjoyed from New York to Hong Kong, continuing the long and storied tradition of Zardetto for wine lovers around the world."
Zardetto Z Prosecco Brut NV is inviting, fruity, classic, clean, crisp expression of prosecco from major maker. Lively, refreshing charmer. Simple, as is prosecco's wont, but the chardonnay and Zardetto skills give it a soupçon of complexity that moves it past prosaic proseccos. There also is a marketing gimmick where you peel off the front label to reveal a message, in this case, "You are a real superstar!" The play is for you to invite friend/lover to peel the label. A ladle of love and/or romantic intrigue easily can be part of prosecco theatrics.
Festive and vibrantly tasty, prosecco is famous as an aperitif. Pair with antipasto; cured meats; charcuterie board; almonds; garden salads; spicy Asian cuisine; light fish. Prosecco also has a firm place as a cocktail ingredient, and this certainly would shine in that role. $11-17
Winebow, Inc.—a significant player in imports into U.S.—handles Zardetto, and Zardetto makes 2.5 million bottles of this wine each year, so you should face few challenges finding this at a wine store or online. Go to the Winebow page for nicely in-depth information (link below) about the winery.
U.S. importer Winebow website, Zardetto