Light garnet color; cherry, raspberry on reserved nose; sweet cherry, raspberry, pinch of plum, clove, light earthiness on the palate.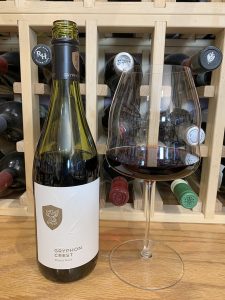 Dry; light-plus body; smooth; good acidity. Very relaxed tannins. Pleasant, unassertive mouthfeel. Red-fruit forward, but demure. You think Germany and you think "strum und drang"—storm and desire—but this is not that at all. This is the lighter and—I write with trepidation—the feminine, ethereal side of pinot noir. A style I admire. Pinot noir should not be an emphatic wine like cabernet sauvignon. Certainly this is food and palate friendly. 14% ABV
There does not seem to be a website for the winery—the url on the label yields nothing—so details of the winery operation and photos are not available. Still, if you find this wine, it is gently quaffable, and you certainly could enjoy with friends put off by assertive red wines. This winery is best known for its rieslings, but this pinot noir is very nice for what it is.
Gryphon Crest Pinot Noir 2016 is very easy drinking, subtle, smooth. Fruity. Fresh. Inoffensive—which may be its criticism if you want one: this is simple and non-confrontational. This is the nice guy in the room who offends no one and everyone comes away from the meeting, but no one remembers his/her name. There is something to be said for that stance in wine. We have plenty of bombastic pours. This one delivers tasty fruits, velvety tannins, soft and plush texture. There are a lot of people who can welcome that.Pair with salmon and other fatty fish; turkey; lighter red meats; veal; venison; lamb. $17-20
There seems to be no accessible website, although the label lists one that no longer exists. And so it goes in the wine world and the internet.