Deep garnet-ruby color; black fruit, peppercorn, clove, smoke on the nose; dark fruits, tart black cherry, blackberry, ripe plum, chocolate, spice on the palate.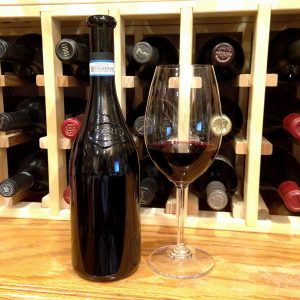 Dense with the raisiny suggestion of sweetness, although this certainly qualifies as a dry wine measured by residual sugar. This is a follow up to review done of this vintage in 2016. Comparing notes, the acidity and alcohol seem to have smoothed out; I liked the wine back then and I like it even better today. The ABV is 15%, but I did not pick up the heat on this finish compared to the previous tasting review.
This is still youthful nine years after the making. Time has tamed the tannins to the point I declined decanting. The tannin-acidity balance has improved. This is delicious wine for its price. Although it retails for more than $30, that is entry level in the Amarone world.
Amarone is a big thing in wine today with production more than tripling in the past 16 years. The wine is made in the Veneto region of northeastern Italy, in Valpolicella, a viticultural zone of the province of Verona. Valpolicella is northwest of Venice and north of Verona; it now is a Denominazione di Origine Controllata e Garantita (DOCG), the Italian designation of an apex special production area. Grape harvest soared from 8,000 tons at the end of the 20th century to more than 35,000 tons today.
Amarone means "the great bitter," although Amarone is not bitter—the name distinguishes it from Recioto, which is sweeter desert wine made in same region with similar dried grapes. Amarone is made using the appassimento method in which grapes originally were dried on bamboo or straw mats for weeks or months to concentrate sugars and flavors. Loosely speaking, amarone is made from raisins. Three classic grape varieties blend to make this wine: corvina (60%), rondinella (30%), and molinara (10%), or some percentages close to that. The maker is not specific for this vintage, but these are standard quantities. Corvina delivers big fruit, red flavors when young that turn darker during the making and aging; rondinella brings floral elements and low tannin; molinara delivers high acidity.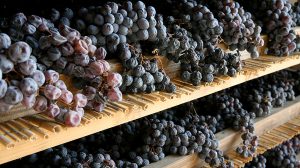 Given higher sugar content created by appassimento, Amarone is high alcohol—usually 15 percent or more—with full body and wonderfully concentrated flavors. Work that goes into making the wine traditionally meant it was expensive and relatively hard to find. Then computers and fans and plastic drying trays came into vogue in Veneto, modernizing the effort and dramatically affecting production and availability. The Zeni has been a family operation in Valpolicella since 1870, and they embraced many of the modern techniques, led by family patriarch Nino Zeni beginning in the 1950s. The winery also includes a wine museum.
Zeni Amarone della Valpolicella Classico 2009 is delicious, fully delivers the velvety mouthfeel anticipated from amarone, and continues to develop nicely nine years after the making. Pair with beef braised in amarone, roast beef, boeuf bourguignon, rib roast, risotto all'amarone, pigeon (squab), venison, strong-flavored lamb, duck cooked in balsamic vinegar (balsamic works well with amarone), strong cheeses such as gargonzola, maure parmegiano reggiano (parmesan), blue cheeses. Typically amarone is a poor pair with fish. $31-40