Medium yellow color; citrus, lemon, grapefruit, wet stone on the nose; lemon, white pepper, melon, white peach, pear, wet stone on the palate.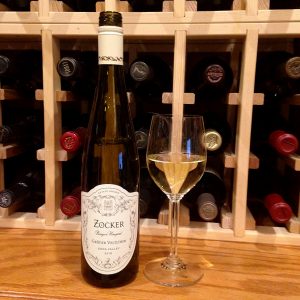 Dry; excellent acidity (3.18 pH) should uphold grüner veltliner's reputation as a terrific food wine. Very clean, steely, good minerality. Zero oak influence. Fresh in the mouth, light-medium body with striking minerality and savory notes. Spices take center stage on long, satisfying finish.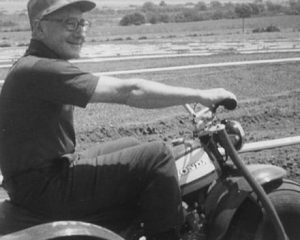 Jack Niven planted Paragon Vineyard in 1973 with commitment to take advantage of the cool temperatures in San Luis Obispo to grow first chardonnay, then the signature wines of Austria—grüner veltliner and riesling. Today, the second and third generations of Nivens carry on Jack's vision. All the grapes in this effort come from the Niven family's certified sustainability in practice Paragon Vineyard in the Edna Valley on the Central Coast of California.
The Niven family takes pride in practicing sustainable agriculture (SIP) from the first day they broke ground on the Paragon Vineyard. They were pioneers in the SIP-certified movement and one of the first wineries in the San Luis Obispo (SLO) AVA to earn certification. Owl boxes are scattered throughout the vineyard to encourage nest for predatory birds to control the rodent population; goats roam the vineyards to crop down vegetation; numerous jack rabbits live in the vineyard, indicating biodiversity and a healthy ecosystem.
Rob Takigawa is the director of winemaking at Zocker. Scott Williams is the director of winegrowing. The wine is made by veteran French winemaker Christian Roguenant.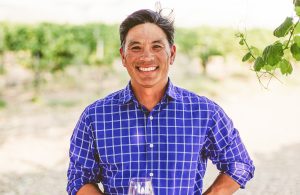 Grüner veltliner is the signature grape of Austria—by far the country's most planted vine. "Grüner" means green, reflecting the variety's yellow-green berries and green pepper character. "Veltliner" appears to be a possible reference to its origins in Valtellina, an Alpine valley in the far north of Lombardy. Grüner veltliner is famed in Austria for its ability to pair with foods.
Zoker is the newest venture by the Niven family, and one they admit is a gamble. In fact, the name states such: "zocker" is the Austrian/German word for "gambler." The efforts have earned kudos from critics since the first vintage in 2009. Other Niven Family Wine Estates wines include Baileyana, Tangent, Trenza, Cadre, and True Myth.
Zocker Paragon Vineyard Grüner Veltliner Edna Valley 2015 is a superb SLO take on a classic, famously food friendly Austrian wine. Great acidity and minerality with vivid citrus and melon fruit flavors. Consider it as an exotic, thought-provoking alternative to chardonnay or sauvignon blanc. Pair with salads and vegetables—including artichoke and grilled asparagus (something virtually no other wine dares), awesome with Asian and Asian fusion, seafood, pork tenderloin, smoked ham, weiner schnitzel, poultry, soft cheeses and rich creamy cheeses such as camembert, and fresh cheeses such as ricotta and paneer. $20