Inky dark ruby color with dark mahogany on the rim; black cherry, plum, smoke on the nose; black cherry, blackberry, dark fruits, herbs, light spice on the palate.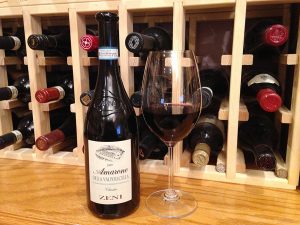 Dense flavors, juicy, balanced, well put together; light-medium tannins, some acidity; pleasing youthful freshness extends from initial attack through finish—a real plus for this effort. Has elements of Port-like sweetness generated by the 15-plus abv, but that is what you expect from Amarone. Some heat asserts on the finish, you decide if that is a plus or minus. Finish is relatively short for Amarone.
Amarone is one of the next big things in wine; production has tripled in the past 15 years. The wine is made in the Veneto region of northeastern Italy, in Valpolicella, a viticultural zone of the province of Verona. Valpolicella is northwest of Venice and north of Verona; it now is a Denominazione di Origine Controllata e Garantita (DOCG), the Italian designation of an apex special production area. Grape harvest soared from 8,000 tons at the turn of the century to 35,000 tons today.
Amarone means "the great bitter," although Amarone is not bitter—the name distinguishes it from Recioto, which is sweeter desert wine made in same region with similar dried grapes.
Given higher sugar content created by appassimento, Amarone is high alcohol—usually 15 percent or more—with full body and wonderfully concentrated flavors. Work that goes into making the wine traditionally meant it was expensive and relatively hard to find. Then computers and fans and plastic drying trays came into vogue in Veneto, modernizing the effort and dramatically affecting production and availability. While Zeni has been a family operation in Valpolicella since 1870, they have embraced many of the modern techniques, led by family patriarch Nino Zeni beginning in the 1950s.
Zeni Amarone Della Valpolicella Classico DOCG 2009 delivers velvety mouthfeel, nice depth for Amarone at this price point, and is example of the greater availability and more affordable pricing for this delicious Italian wonder. $33
Other photos: Nino Zeni, Zeni family today