Dark ruby-purple color; dark fruits, plum, black cherry, blackberry nose; intense big fruit found in the nose, round, flirts with massive on the palate.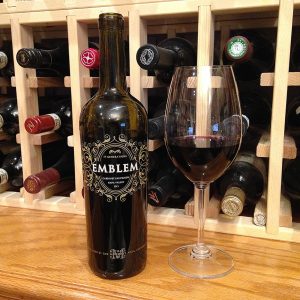 Fully body, generously rich flavors, really chewy tannins, oak (18 month in French oak, 66% of it new) that still deftly avoids being an oak monster. Clearly benefits from decanting. Made with 79% cabernet sauvignon, 8% petit verdot, 4.5% syrah, 2% zinfandel, 1.5% merlot.
Michael Mondavi Family Estate makes various levels of wine. Isabel Mondavi Wines ($25-40) is their entry-level brand. Emblem ($35-$60) follows. Animo takes it to the next level ($70+). The top-of-the-line efforts are labeled "M by Michael Mondavi" ($200+).
There are eight wines under the Emblem mark: Emblem Napa Valley Cabernet Sauvignon (this wine); Emblem Oso Vineyard Cabernet Sauvignon; Emblem Carneros Chardonnay; Emblem Oso Vineyard Sauvignon Musqué; Emblem Oso Vineyard Fumé Blanc; Emblem Oso Vineyard Petite Sirah; Emblem Oso Vineyard Petit Verdot; Emblem Oso Vineyard Passito. The two cabs are the flagships of the Emblem brand, with the multiple-sourced blend (the wine reviewed here) as the approachable, more affordable effort. The single-source Oso Vineyard ($60) is intended for longer life and is more structured. 
Mondavi is vino royalty in Napa—the entire wine world, for that matter. Michael Mondavi and his wife, Isabel, and son Rob Jr. and daughter Dina own and operate the Michael Mondavi Family Estate. Following family tradition, they adhere to sustainable and organic standards because they believe the best grapes, and the best wines, come from healthy vineyards. Michael reports when he was 11 years old, his grandfather Cesare Mondavi impressed upon him that is was a solemn family duty to leave the soil in his vineyard in a healthier condition than when he received it from his father and uncle. Dutifully, he has done so.
Today, winemaking duties are shared between Michael's son, Rob Mondavi Jr. and Tony Coltrin. Together, "they aim to make wines with integrity, balance and a sense of place" according to the winery website. They also believe the best wines in the world come from family-owned and managed producers. As part of that effort, in 2004 they launched Folio Fine Wine Partners to provide marketing, sales support, public relations, and compliance assistance not only to their brands but to others. The Frescobaldi family in Tuscany were the first to join in the alliance (Frescobaldi makes great wines, BTW). Folio now partners with makers in Italy, Spain, France, Argentina, and Austria.
Michael Mondavi Family Emblem Cabernet Sauvignon Napa Valley 2013 is a big Napa cab that delivers the almost-over-the-top flavors most expect (and many demand) from America's premier cabernet sauvignon region. $35-36
Other photos: Mondavi family—Micheal, Rob, Dina, Isabel; Michael Mondavi winery; Michael Mondavi tasting room.