Dark purple-red color with magenta rim; plum, dark cherry, blackberry, spice on the nose; black cherry, blueberry, raspberry, plum, sweet spice on the palate.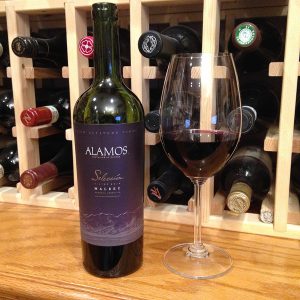 Tasty, soft, polished easy drinker; dry; relaxed tannins, medium acidity; medium-full body, rich, creamy; smooth, gentle finish.
The Catena family has made wine in Mendoza since immigrating from Italy more a century ago. Dr. Nicolás Catena Zapata and his daughter, Laura, run the winery today. They are winemakers and much more. Dr. Catena was a professor of economics at UC-Berkeley in the 1980s and Dr. Laura Catena was an emergency room physician with degrees from Harvard and Stanford before she returned to the family wine business as head of research and development. Laura led the winery in developing high altitude malbec, from which this wine is made. Catena is particularly notable for its high altitude vineyards, some at 5,000 feet in the foothills of the Andes. Altitude is the key quality indicator in Argentine malbecs.
Malbec is the premier grape in Argentina, where it flourished after journeying from France in the mid-19th century. Troublesome in France because it was susceptible to disease and rot in the French climate, when grown in the dry, hot-day, cold-night, high-altitude terroir of Argentina, the disease and rot associated with malbec never materialized. The Mendoza wine region accounts for two-thirds of Argentina's wine production; it is a semi-arid desert (eight-inch annual rainfall), so vines are irrigated with meltwater from the Andes; some of the water is delivered by canals dating from the 1500s. With vineyard elevations ranging from 1,000 to 5,000 feet, Mendoza experiences hot, sunny days and cold nights, magical conditions for malbec.
In 2013, as an evolution of Catena's department of research and development established eight years earlier, the Catenas established the Catena Institute of Wine to scientifically develop Argentinian vines and wines. The institute collaborates with UC-Davis in its R&D efforts. Wine Enthusiast named Catena the New World Winery of the Year in 2010 and Decanter Magazine named Nicolás its Man of the Year in 2009. Robert Parker notes: "When all is said and done, Catena Zapata is the Argentina winery of reference—the standard of excellence for comparing all others."
Catena Alamos Selección Malbec wine sells in nearly 60 countries and is made with attention to quality and is priced below what it could command because Alamos wants this to represent Argentinian wines, especially Mendoza malbec, to the world. That means huge value-for-price.
Gallo distributes in the United States, so you should be able to easily find this (and other Alamos varietals). You will notice some name issues—the wine distributed by Gallo in the U.S. is labeled Alamos (Spanish word for poplar/cottonwood tree); the winery label is Catena; the official name of the winery is Bodega Catena Zapata (bodega is Spanish for winery).
Catena Alamos Selección Malbec, Mendoza 2014 is a delicious, spectacular value at $16-20.
Other photos: Catena Winery; Dr. Laura Catena; Dr. Nicolás Catena and wife Elena