Light gold-straw color; green apple, pear on the nose; green apple, pear, white peach, pineapple, citrus, caramel, butter, sweet oak on the palate.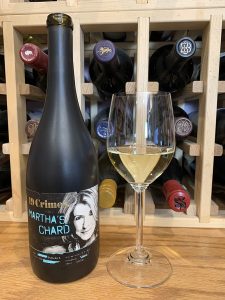 Off-dry with ripe fruit sweetness and, likely, a splash of residual sugar. Light-medium body. Good acidity (3.48 pH) helps balance the sweetness. And the sweetness is not over-the-top in any event. Made with 100% California chardonnay grapes. This is light fruit, hint of oak, malolactic butteriness, balanced California chard. 19 Crimes is built for mass-market appeal, and this hits that target. 13.8% ABV
19 Crimes labels have a QR code that takes you to a website video. In this case, it is Martha Stewart. After an introduction at a party where she shares her wine she closes with: "Work hard. Play hard. Drink Martha's chard." The Martha Stewart and Snoop Dogg offerings by 19 Crimes clearly are kitschy gimmicks—this one includes Martha's mug shot on the cork—but they also have to be acknowledged as being good for what they are. There is little doubt, particularly at this attractive price, that this will sell.
The old saying goes, "they will buy you first because of the celebrity name, but they will buy you second for the winemaker's skill." I expect many people will buy this a second time. It is a proven Cali chardonnay formula even if this style is passé in some elements of the wine world. And the toned-down alcohol and oak acknowledge 19 Crimes did not want to make a cartoon wine.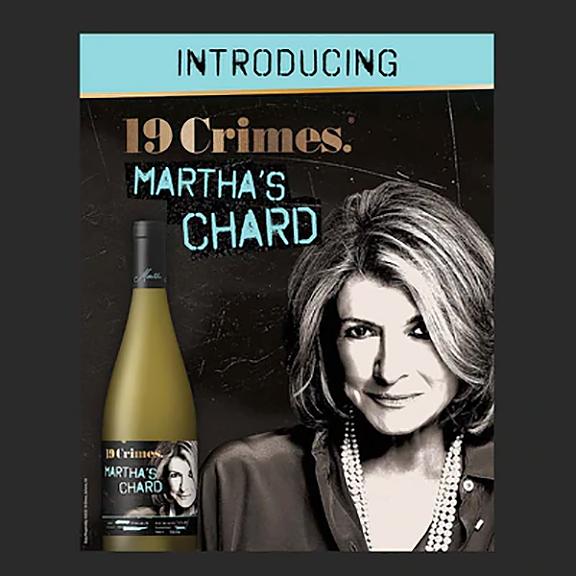 Treasury Wine Estates' 19 Crimes brand primarily sources from Australian makers—Treasury is an Australian company—but this is sourced from California. At this price and celebrity-wine niche, you are not going to get top-shelf fruit, but this is drinkable wine without turn-off flaws. It certainly is a wine that wine novices and occasional wine drinkers can enjoy.
Treasury Wine Estates is a major international player in the wine world, making wine in 12 countries, selling more than 35 million cases of wine a year, and generating sales of more than $2 billion. Labels you may recognize of their other brands—Stags' Leap, Sterling Vineyards, Beaulieu Vineyard, Beringer, Chateau St. Jean, Greg Norman Estates, Lindeman's, Wolf Blass, and Treasury's flagship—Penfolds.
19 Crimes Martha's Chard 2020 is summer fun wine and a bit more. There is no significant flaw. Crispness, acidity, and balance are its best points. The fruit is a bit reserved, which affects both the nose and the palate, but it is there and wisely avoids being a classic fruit-oak-alcohol bomb that spawned the Anything But Chardonnay movement. This doesn't easily fit into any Cali chardonnay niche, which likely is the point Stewart and 19 Crimes wanted to make. Pair with poultry, including fried chicken; pork; rich fish—salmon, tuna, cod; vegetarian fare; movie theatre popcorn; spicy foods, including Mexican and Asian dishes. Cheese—pair with cheeses with buttery, nutty, and/or fruity notes; garrotxa, camembert, fontina d'aosta, tête de moine. $10-12