Deep purple color; dark cherry, blackberry, mocha, vanilla on the nose; on the palate—dark fruits, blackberry jam, chocolate, oak, vanilla, why not throw pepper and plum in there, too.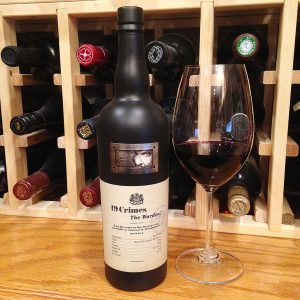 Very fruit forward; sweet tannins; nicely balancing acidity (4.39 pH); residual sugar at 6.4 g/L puts it on the sweeter end of dry—most Europe reds must be less than 4 g/L, for instance and more than 10 g/L means off-dry—but the 19 Crimes portfolio is committed to pushing the big fruit, slightly sweet, monster ripe shiraz envelope. That's this wine, which is a blend—the winery does not disclose all the grapes, but does confess the leader is shiraz (as first taste would reveal).
The label name comes from Australia's penal colony beginnings. In the 18th and 19th centuries, there were 19 crimes that earned you "punishment by transportation"—banishment to Australia. The crimes ranged from somewhat serious—grand larceny—to the weird: impersonating an Egyptian (which actually meant being a gypsy—a crime previously punished by death in England) and clandestine marriage (marriage without church banns or license). To Australia they came. Some of their descendants make this wine today.
The wine is made by Treasury Wine Estates, an Australian-based global winemaking and distribution operation that traces its roots to Penfolds Wine and Foster's Group beer brewers. Because the wine business under-performed the beer business, the wine operation was spun off from Foster's in 2011, and the wine business has struggled and morphed since then. It still remains, however, a major international player in the wine world, making wine in 12 countries, selling more than 35 million cases of wine a year, and generating sales of more than $2 billion. Labels you may recognize include Beaulieu Vineyard, Beringer, Chateau St. Jean, Greg Norman Estates, Lindemans, Stag's Leap, Wolf Blass, Sterling Vineyards, and their flagship—Penfolds.
19 Crimes The Warden Reserve 2015 is loads of ripe dark fruits, oak sweetness, vanilla and chocolate to pleasure those imprisoned by this distinct Australian style. $22