Deep ruby color; cherry, spice, herbs on the nose; cherry, blackberry, red plum, blueberry, some caramel and oak toast on the palate.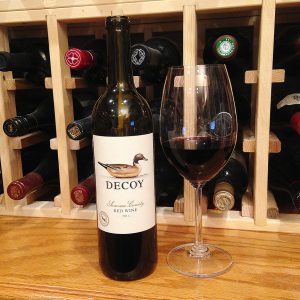 Grapes galore blend of 52% merlot, 22% cabernet sauvignon, 10% petite sirah, 8% cabernet franc, 8% petit verdot from 28 different vineyards in Sonoma; spent 10 months in French oak, 40% new and 60% neutral. Fruit-forward, but strongly reflects the softness of merlot. Sweet tannins and restrained acidity. Very easy drinker; medium-thin body—13.9% ABV, but that may be high side. Simplicity is the strength of this wine: offend as few drinkers as possible, making this a safe pour for wine drinkers who don't embrace adventure, which fits Decoy's niche in the Duckhorn Winery portfolio as their entry-level, consumer wine aimed to introduce you to Duckhorn's more exalted efforts.
Decoy is part of the Duckhorn Vineyards portfolio that also includes Paraduxx, Goldeneye, and Migration. Other labels include Migration and Canvasback. All offer affordable, good, solid wines with large production, making them easily available.
Dana Epperson is the winemaker at Decoy. Her background includes a stint at Artesa Vineyards & Winery, where Duckhorn Vineyards winemaker Mark Beringer was her mentor. As she noted in an interview, "in a way, I studied the Duckhorn Wine Company style before I came to Decoy." She also notes that "Decoy got its name from being mistaken for something even better." Decoy Sonoma County Red Wine does mimmic a more expensive right bank Bordeaux in some respects, more closely a Côtes de Bordeaux.
Dan and Margaret Duckhorn founded Duckhorn Vineyards in 1976. They focused on merlot from the beginning. Today, the seven estate vineyards are located in the Napa Valley and on the slopes of Howell Mountain and produce a number of varietals in addition to the merlot core, as this mélange demonstrates.
The company is undergoing change. Dan and Margaret divorced in 2000. Dan was named Winemaker of the Year by the San Francisco Chronicle in 2005. GI Partners, a private equity firm, purchased controlling interest in the Duckhorn Wine Company in 2007. In 2016, TSG Consumer Partners bought the brand and its wineries for a price in the range of $600 million according to published reports. We shall see how new owners steer this ship.
Decoy Sonoma County Red Wine 2014 drinks like a Côtes de Bordeaux, will please many palates although more sophisticated sippers may have prayed for more. Certainly a safe buy for someone who wants to pour a quality, merlot-led red blend without frightening the accountants. $20
Photos: Dan and Margaret Duckhorn; Duckhorn winery and vineyard; Decoy winemaker Dana Epperson