Deep gold color; baked apple, bread, clove on the nose; yellow apple, star fruit, tangerine, buttered peach, almond, spice on the palate.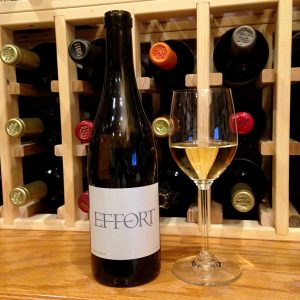 Dry, approaching off-dry; superb acidity. Medium to full bodied. Very fruit-forward; creamy and round in the mouth after full malolactic fermentation. Aged in once-filled French oak, concrete, acacia to give the oak element some nuance, but you can tell it spent significant time with the wood. The richness and depth of the wine indicates significant time on the lees, too.
This is Center of Effort's entry-level chardonnay. For $10 more you move up to Center of Effort Chardonnay Edna Valley, made with the most-prized fruit from their vineyards—yes, that is very subtle difference in the name. Center of Effort vineyards are south-facing slopes just 4.5 miles from the Pacific shoreline. The winery emphasizes sustainable agriculture and labor-intensive winemaking designed to produce high quality Burgundian wines—chardonnay and pinot noir.
Bill and Cheryl Swanson acquired their estate with the direct purpose of producing high quality pinot noir and chardonnay wines on the vineyard's lean soils, ocean-cooled climate, and natural environment. They brought in vineyard consultant Kevin Wilkinson and winemaker Nathan Carlson, later joined by Mike Sinor, to help them achieve their artisan winery dream. Origins of the estate date back to 1978 when Jim Lawrence, one of the first vintners to appreciate the potential of the Edna Valley, created the vineyard and winery that soon became a center of the valley's winemaking culture. Bill and Cheryl, longtime San Luis Obispo residents, tasted Lawrence's wine and thus began their dream to be part of the vineyard and winery's future.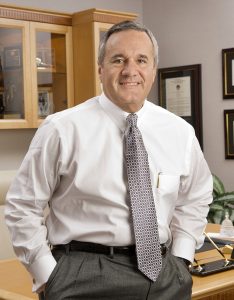 Bill is the retired chairman and CEO of Raytheon Company, a Fortune 100 leader in aerospace technology and innovation. He graduated magna cum laude from California Polytechnic State University at San Luis Obispo with a degree in engineering.
Effort Chardonnay Edna Valley 2016 is very smooth, fruit-forward easy drinker with noticeable but restrained butter and oak. A classic California chardonnay from the San Luis Obispo Wine Country on California's Central Coast. Pair with herb-crusted halibut, baked trout, oily fish, crab, scallops, shrimp, chicken and turkey breast, pork loin, soft and semi-soft cheese, yellow squash, zucchini, peas. $24