Pale gold color; peach, lemon, wet rock on the nose; Meyer lemon, lime, grapefruit, citrus, white peach, green apple, minerality-salinity on the palate.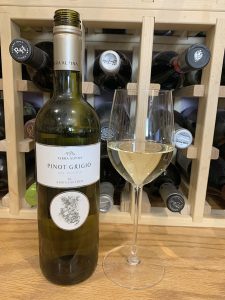 Dry; no tannins, made and finished in stainless steel. Good, racy acidity with nice fruity simulacrum of sweet in the mid-palate and drama-filled finish. Creamy, light body. Starts out as a fun, let's don't make this complicated wine. Then appears the unexpected depth you encounter in the second glass—like, "where did this delicious and long finish with the fruit playing footsie with salinity come from?" Well, the answer is from the Dolomite region of northeaster Italy with its limestone soil and the contortion of Mediterranean and Alpine influences. 12.5% ABC
The Alois Lageder winery was established in 1823. Today it is managed by the founding family's fifth and six generation, Alois Lageder and Clemens Lageder. The operation is located in Magrè, the southern part of the Alto Adige region in north eastern Italy, in the foothills of the Dolomite mountains. A few years ago, Alois Lageder began working with grape farmers in the wider Dolomiti area. That is why this pinot grigio (and their pinot bianco) have Dolomiti appellation. The winery also created a brand for this—Terra Alpina. The Alto Adige/Dolomiti region—also referred to as Südtirol (South Tyrol)—reflects the area's German-speaking heritage.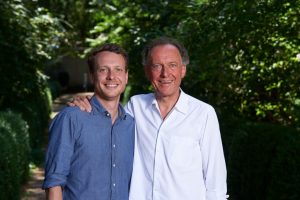 The winery is committed to responsible, sustainable practices. They note: "Alois Lageder believes that organic and biodynamic cultivation greatly enriches the landscape. One of the goals of biodynamics is to build a closed farm organism and to increase diversity and fertility. The winery collaborates with mountain farmers who bring their cows and sheep in the winery's vineyards during the autumn and winter months, following the old tradition of transhumance. This helps to increase the vitality of the grapes and the biodiversity."
Alois Lageder Terra Alpina Pinot Grigio Vigneti Delle Dolomiti IGT 2019 is delightful easy drinker with plenty of refreshing acidity and fruit. Intriguingly elegant with sweet fruit surprises on the late mid-palate and surprisingly extended finish. This is absolutely a zesty, dry wine, but the fruit works overtime to give you silky, beguiling drinking pleasure. Superb as a summer sipper all by itself on patio, porch, picnic, poolside, deck. Pair with light fare; garden salad; charcuterie with lighter and creamy cheese. $15-17
Terra Alpina website; good video about biodynamic practices
U.S. importer Della Terra website, this winery