Deep ruby color; plum, cherry, raspberry, red fruit, dried herbs on the nose; cherry, plum, black and red fruits, pine nuts, pepper, oak on the palate.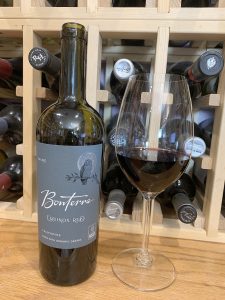 Dry; somewhat restrained tannins—merlot is main part of this—but petit sirah brings some bite and heft. Four years in bottle may have tamed this a bit. Some balancing acidity (3.76 pH). Spice and savory-meaty qualities triumph over fruitiness, so this is more big body red wine than lip-smacking, fruit-forward drinker. That said, after some time in glass it evolves into an easy drinker. Consider decanting—well, readers know I always consider decanting with red wines. Better to pair with brave fare than enervated haute cuisine, however. 14.5% ABV
Simple wine with some rustic notes. Tasty rather than sophisticated. Fruitiness emerges after some air time, but you have to be patient. Bonterra—very roughly "good earth"—organically farmed long before organic farming was cool. They started in 1987. Ronald Reagan was president and in earliest stages of Alzheimer's disease, Barack Obama was a community organizer that would take him to the US Senate and then the presidency, and Donald Trump was a flailing and failing casino mogul careening toward four bankruptcies. A lot of water under the bridge since then, but Bonterra stuck with responsible grape farming and it has paid off.
Bonterra is a label of Chilean wine giant Concha y Toro. Concha y Toro acquired the winery in 2011 when they spent $238 million to purchase Brown-Forman, best known for Fetzer Vineyard but also owner of Bonterra. The new owners upped the Bonterra game.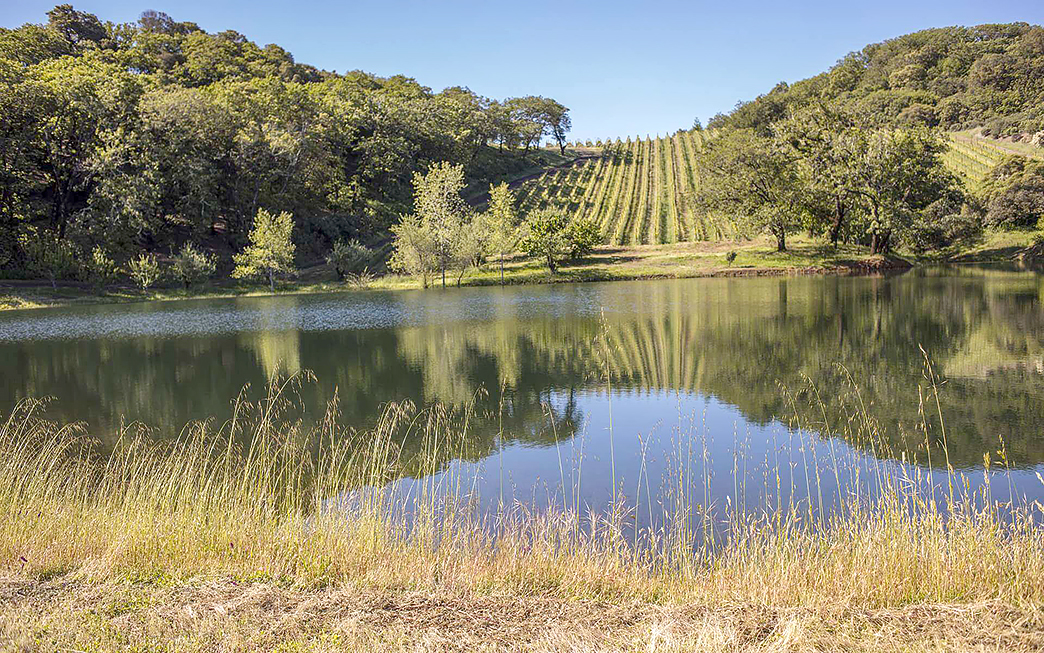 Bonterra admirably focuses on organic and sustainable agriculture, and it now is the biggest U.S. producer of wines made from organic grapes. "We plant native flowers around our grapes to attract beneficial bugs, and welcome songbirds and chickens into our vineyards to eat up the pests," they announce on their website. "We even employ sheep to mow between the vines. In our vineyards, every living thing is connected and we all work together to create pure, flavorful wine."
Bonterra not only commits to organic and sustainable, they go the extra mile into biodynamic farming, sometimes irreverently called voodoo viticulture. Regardless of the put-down, biodynamic consistently produces quality wine. The Bonterra website explains: "systems function together to create a single living organism: the farm as a whole. We farm our Biodynamic ranches striving to achieve this ideal with as few external inputs as possible. Biodynamic farming is a holistic view of agriculture with high awareness of the interconnectivity between earth, plants, animals, humans, the moon and planets."
Bonterra Equinox Red 2017 is easy-going palate pleaser. Fun quaffer rather than sophisticated pour—but, by gosh, there clearly are times when you just want to have fun drinkin' and not thinkin', and this fills that bill. Pair with hearty foods; roasted beef; burgers and sliders; pizza; wild game—venison; lamb; comfort foods in general. $13-17
Click on the link to the Bonterra website below to get a more complete appreciation of Bonterra and its commitment to biodynamic farming practices and biodynamic in general. Also, there are other very interesting video links.
Video about Bonterra and organic/biodynamic farming
Video about Bonterra and organic/biodynamic farming