Medium yellow color; peach, lemongrass, passionfruit on the nose; Meyer lemon, lime, grapefruit, tropical fruits on the palate.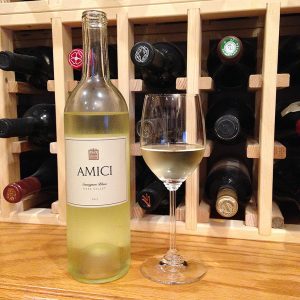 Crisp and ardently delicious on the initial attack of the lemon-lime-grapefruit. Tropical fruits come into play in the mid-palate. There is a possible drop of honey on the satisfying finish. Lively fruits throughout. Light-medium body; clean—100% stainless steel fermentation. Good acidity and minerality; food friendly. Made with 100% sauvignon blanc, 50% the sauvignon blanc musqué clone, which brings the tropical fruit and bigger aromatic elements into the picture. All the grapes come off the Laurent Vineyard in St. Helena, east of Santa Rosa, between Rutherford and Calistoga.
Amici is Italian for "friends", and that is genesis of the Amici story. In the 1990s, a group of friends with a passion for good wine crushed a few tons of Napa grapes for their personal cellars. "It all got started because we wanted to make a wine that we could sit around and share with our friends and be proud of," according to co-owner John Harris. They were so successful, they started producing wine for public distribution the next year. Bob and Celia Shepard are co-owners with Harris.
"For all of us, wine is part of socializing, being with people, having dinner—when we'd get together, we'd always share a bottle or two, and it solidified the friendship," Celia explains. Bart Woytowicz also has ownership participation. Experienced Napa veteran Anthony "Toni" Biagi and Bobby Donnell are the winemakers, with Biagi taking the lead at Amici and Donnell at the sister brand Olema. Biagi says he always has been a fan of sauv blanc. "I've made the varietal my whole career," he told a newspaper interviewer.
In 2011, after producing wine in other's facilities for years, Amici Cellars found a winery to call home when they purchased the T Vine Winery in Calistoga. The winery has developed the property into a venue where friends can enjoy wine with friends. That was the mission from the start.
Amici Cellars Sauvignon Blanc Napa Valley 2015 is classy North Coast California sauv blanc; bigger, fruitier, less ripping acidity and flinty seriousness than you may be used to from New Zealand, but delicious and versatile in its own right. Sauv blanc is extraordinarily versatile and food friendly, and you can get a top shelf bottle like this one for the price of an uninteresting mid-shelf Napa chardonnay, and chards often are not as food friendly. You make the call. Pair with grilled fish, light pasta, chicken (not fried, that's chard's game), garden salad, fresh or slightly aged goat cheese. $25