Medium ruby color; cherry, raspberry on the nose; cherry, plum, raspberry, strawberry, cola, chocolate on the palate.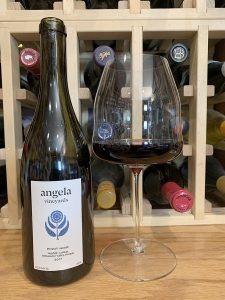 Dry; very smooth, elegant pinot noir at this price point. Another iteration that the Willamette Valley is on of the Earth's blessed places for this finicky grape. Medium body, medium tannins, medium acidity. This does not have a distinguishing element, it is a simple version of a quality grape. But, it is a clean, pure, enjoyable version of Willamette Valley pinot noir at a good price point, which scores marks for this effort.
Angela Estate was founded in the Yamhill-Carlton District of the Willamette Valley in 2006. Antony Beck named the operation for his wife, Angela. Antony has a family legacy of vine growing that started at the Graham Beck Winery in South Africa. The winery is owned by Beck Family Estates, which also includes the sparkling wine house Graham Beck and Steenberg Vineyards in South Africa. Steenberg is the oldest registered farm in South Africa's Western Cape.
This is the first vintage from winemaker Alban Debeaulieu, who succeeds Ken Wright in the spring of 2017. So this is transition wine from two quality winemakers. Fermented with native yeasts. Aged 10 months in 25% new French oak, so the oak influence is significantly subdued. Heath Payne is the viticulturist. Beck Family Estates has a long and deserved reputation for thinking long-term and multi-generational with a concomitant commitment to local communities, environmental restoration, conservation, and organic, sustainable farming.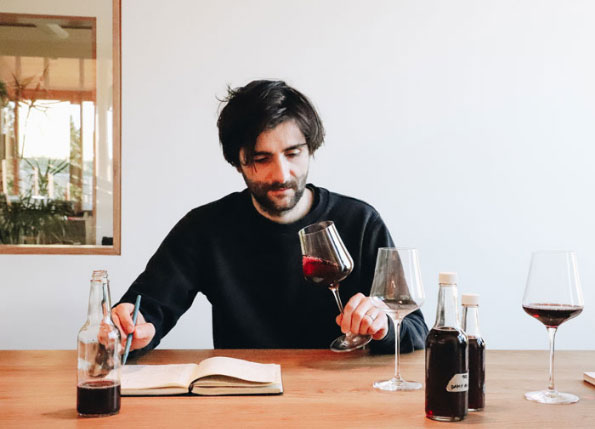 The website notes: "Angela Vineyards was started in 2006 out of a friendship, in the small town of Carlton, Oregon, with the simple intent of making delicious wines with and for friends. Our chosen approach was an ancient one: letting the grapes and the terrain guide the way. And, this corner of the New World is one of contrasts and surprises—one we were drawn to because there's just something about bringing the unexpected together. What we produce comes from relationships—between land and weather, vines and clones, people and places, ideas and experiences."
Angela Estate Pinot Noir, Willamette Valley 2017 is a pleasing pinot. Excellent QPR (quality-price ratio). Not exceptional, but very easy-drinking enjoyable presentation of classic pinot noir flavors—cherry and raspberry and a pinch of plum. Nice everyday pinot pour. Pair with salmon and other rich seafood; turkey; poultry; veal; lamb; wild game—venison; pork tenderloin, pork chops. Cheese—pinot noir is ver versatile, gruyère, comté, emmenthal, gouda, epoisses, taleggio, reblochon. $30-39