Deep ruby color; peppercorn, blackberry, smoke, mulberry, green pepper, spice on the nose; blackcurrant, black plum, gooseberry, licorice, blackberry, chocolate on the palate.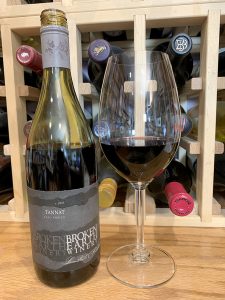 Dry; bold, rich, tannic—what you expect from tannat. Relatively low acidity (3.77 pH)—again expected from tannat. Superb length. Very ripe flavors. The ripe grapes give the illusion of sweetness, flagrantly abetted by surprisingly high alcohol for tannat—16.7% ABV. Alcohol presents the illusion of sweetness, certainly here.
Broken Earth winery began when Herman Schwartz purchased the property in 1973 and planted 520 acres in grapevines. He embraced sustainable farming techniques, which continue today. The winery is powered by a solar array. Solar provides the hot water at the winery. There are energy-saving tank temperature control systems. More than 360 acres of trees have been planted, many of them it exotic grapes—for California.
Chris Cameron is the director of winemaking. He is a veteran of more than 30 vintages, including the past four in Paso Robles. Prior to that, he worked in Australia, Italy, France, and Turkey. He is an advocate of minimalist intervention. The wine is made in the vineyard, and Cameron believes his job to to allow the vineyard to express itself in the wine. Bravo. A video on the website narrated by winemaker Christ Cameron is worth watching.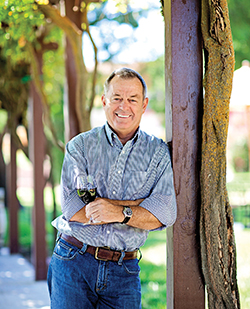 Tannat obviously does well in Paso Robles, at the least at Broken Earth. Its international reputation is built on its success in Uruguay, the third-largest wine producing country in South America. With its vivid tannins and subdued acidity, it is famed for pairing with rich, red meats, especially roasted on outside skewers, barbecue, roasted red meat in general. If you are not familiar with this rich, assertive red, it is worth you finding and trying.
Broken Earth Winery Limited Release Tannat, Paso Robles 2016 is powerful, bold wine with big tannins nicely integrated with very ripe, tasty fruit. Big alcohol—16.7% ABV—marries with very ripe fruit to present a simulacrum of sweetness. Impressive feat to deliver a smooth, easy drinker with big tannins and big alcohol. Pair with rich red meats—classic; other fatty dishes; cassoulet (bean casserole baked with herbs and pork sausage and sometimes other meats); sausage; roasted lamb. Cheese—maple-smoked cheddar, smoked gouda, extra-old cheddar, aged/extra-aged gouda, semi-soft and soft-washed rind cheeses. $22-35