Medium gold color; pear, peach, green apple, citrus, flowers on the nose; pear, peach, green apple, lemon-lime, grapefruit, minerality, salt on the palate.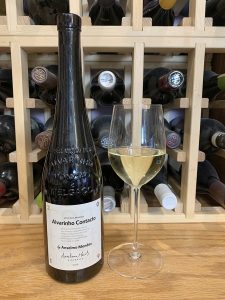 Dry; cutting acidity; medium body. In an unusual move for vinho verde, this wine experiences some skin contact—thus "contacto" in the name—making it richer and fuller, although it is an alvarinho, thus not heavy. Alvarinho, spelled albariño in Spain, comes from the Vinho Verde region of northwest Portugal. Vinho verde ("green wine") is not a grape variety, it is a Portuguese DOC. As is typical, the vineyards are influenced by the nearby Atlantic, given the wine the salt-saline element you look for. No oak or tannins; no fizz. 12.5% ABV
Anselmo Mendes is a benchmark producer in the region. He is considered one of Portugal's great winemakers and consults all over the country. This comes from his home in Minho and is a demonstration of his significant skill set. With its depth and surprising richness, this could cellar for a couple of more years and likely add more complexity. The skin contact adds unexpected and appreciated texture. It also spent a minimum of four months on the lees, adding to the richness and complexity. If you think of alvarinho wines only as fish-friendly, wallet-friendly, simple wine, this will change your mind.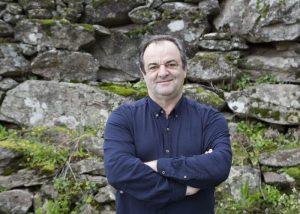 Skurnik, the U.S. importer notes on its website: "Anselmo Mendes is, simply put, one of Portugal's most revered winemakers. A native son of Monção (which, along with neighboring Melgaço, where his cellar is located, is one of the top Alvarinho crus in the country), he hails from an agricultural family that, like most in the area, dabbled in wine for household production. It wasn't until after university studies in agronomy that he began to specialize in wine, studying in both Portugal and France and enjoying a rapidly rising star as one of the most sought-after consulting winemakers in Portugal.
"In 1998, he finally struck out on his own, producing his first own-label wines from rented grapes in the Monção e Melgaço zone, and his (at that time highly unusual) focus on a bone-dry, mineral, serious, no-fizz style rocketed him to the top of the list as Winemaker of the Year in the Revista de Vinhos, Portugal's chief domestic wine publication. (He has since repeated that accolade.) It was then that he also garnered the charming nickname with which he is still associated today—'Mr. Alvarinho.'"
Anselmo Mendes Contacto Alvarinho, Vinho Verde, Monção e Melgaço 2019 is surprising alvarinho with complexity and depth thanks to the skin contact. And the skill of a significant maker. Classic pairing with seafood and grilled fish of all kinds; lobster, crab, boiled shrimp; octopus, calamari; light meats; vegetarian fare; appetizers and snacks. $15-20