Deep ruby-purple color; red fruits, plum, smoke on the nose; plum, black cherry, blackberry, blueberry, blackcurrant, bacon, baking spice on the palate.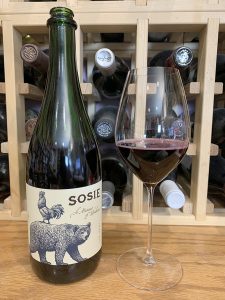 Extra dry, which is slightly sweeter than brut, but not sweet. Fermented six months in neutral oak. Second fermentation méthode champenoise; 14 months on the lees. 100% syrah from the Vivio Vineyard of Bennett Valley in Sonoma. Good acidity for a red at 3.6 pH, but you get more cutting activity from conventional sparklings. Major savory elements, which is no surprise since this is syrah. Significantly chill this; as it warms, the assertive dark fruits work against the lift of the bubbles. 13.7% ABV, which helps in food pairing. Light-medium body.
Italy has lambrusco and Australia sparkling shiraz—both sparkling red wines. This is narrow category. Sosie is a solid maker. Their still syrah is excellent. This is their syrah with bubbles. Worth a taste, but this will not be for everyone. While white and rosé sparkling are more to my taste, this is far from a dismal drinker. There certainly are occasions and food pairings where this will work nicely as a change of pace pour. Very easy drinker, too, with a soft mouthfeel, which certainly will count for those who do not favor challenging wines.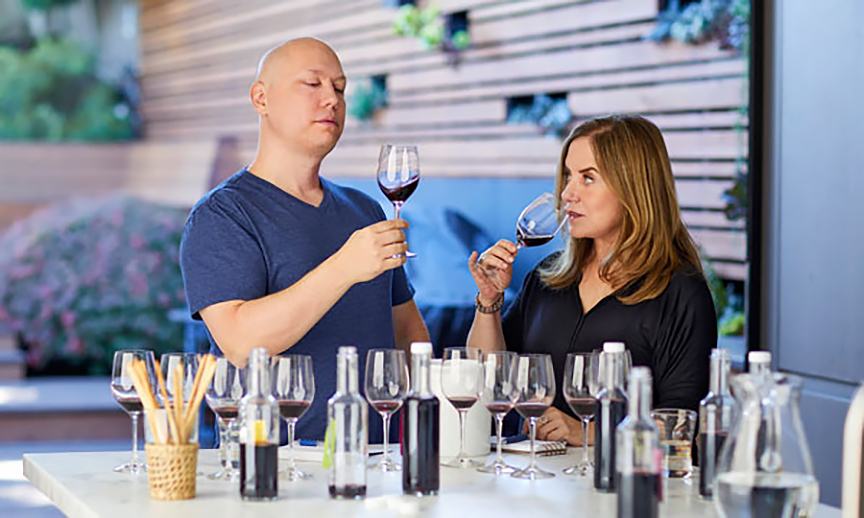 The Sosie website explains the mission of its principals Scott and Regina MacFiggen and the winery name: "When we got into this business, it was with the conviction that our wines would stand for something. That they would not just have a style, but a purpose. We were going to craft our wines to be food-friendly. So: lower in alcohol, higher in acid, structured and layered and made in small batches with minimal intervention and the lightest touch of oak. What name might convey all that?
"We went round and round until we ran out of ideas. So we hired a writer and gave him a brief: New world wines for old world palates. He gave us 50 names, about half of them French. This made our heads swim. But when we evaluated them based what the words mean, how they sound, how distinctive they are, Sosie (so-zee) rose to the top. It's French for "twin or spitting image," which neatly summarized our winemaking aspiration. The fact that it sailed through the trademark gauntlet proved just how original it was." The bear represents California (the Golden Bear is that state's symbol), the rooster (coq) is France's national symbol.
Sosie Wines A Moment of Weakness Sparkling Syrah 2018 is rare California effort at red sparkling wine. It is not Italian lambrusco, and not quite Aussie sparkling syrah. As you should expect from boutique winemaker Sosie, it is unicorn wine that some will love and others will not get. Nothing wrong with that in the multifaceted world of wine. Pair with salty snacks; charcuterie tray with salami, prosciutto, pedorino romano; can hang with hearty foods you would pair with still wine syrah. Will hold its own paired with rich sauces; vivid seasoning—Lebanese lamb shawarma; gyros; Asian five-spice pork. $35