Deep ruby color; plum, cherry, tobacco, minerality on the nose; cherry, plum, blueberry, blackberry on the palate.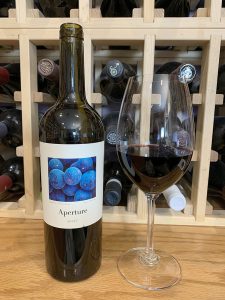 Dry; firm, integrated tannins with balancing acidity. Nicely restrained oak. Elegant power—steel fist in velvet glove. Deliciously smooth, silky. Layers of flavors. Complex charmer. Medium-full body with supple, beguiling mouthfeel. Long, sensually indulgent finish. Blend of 85% cabernet sauvignon, 8% malbec, 7% merlot; 14.6% ABV.
The winery name comes from owner Andy Katz's day job as a world famous photographer with dozens of award-winning books in his portfolio. While pursuing his click career, Andy infused his love of wine in his son, Jesse. Today, Jesse is a celebrated winemaker. Jesse appeared on the cover of Wine Enthusiast as a "rising star" who the editors praised as "changing the way the world drinks."
Aperture website: "Jesse's diverse experience spanning 15 harvests at wineries, along with his desire to travel, fed his aspiration to learn from the best in the industry, including Pétrus in Bordeaux, as well as time on the winemaking teams at Screaming Eagle Winery and Robert Foley Winery in Napa Valley, and Viña Cobos and Bodega Noemia in Argentina.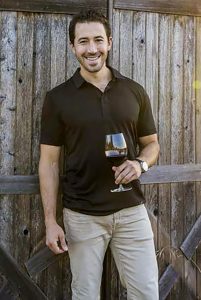 "In 2010, Jesse was the youngest-hired head winemaker in the US at Lancaster Estate where, during his five-year tenure, he orchestrated the building of the new Roth winery, production facility, and tasting room on Chalk Hill Road, grew the Roth line over 800%, and received 90+ scores on every wine scored by Robert Parker, Jr., and garnered Lancaster Estate's inclusion on the list of Wine Spectator's Top 100 Wines."
So, another celebrity does wine, but this one did it with his son. Jesse supplies the grapes and the wine. Andy produces the images. It that cool or what? Sip this effort and celebrate this father-son partnership.
Aperture Cellars Alexander Valley Cabernet Sauvignon 2017 deep layers of red and dark fruit flavors. Exceptionally smooth and invitingly delicious. Admirable restraint in fruit, tannin, and oak, but with solid undertow of rich Alexander Valley fruit and deliciousness. Will pair well with tame red meats (its gentle tannins means will not do as well with the heartier slabs of heavily marbled beef); lamb; veal; meatloaf. Also with hamburgers and other comfort food, but wine at this level should be reserved for finer fare. $70-75
Aperture Cellars website with nice landing page video
All photos except the bottle-glass shot from Aperture website