Pale gold color; green apple, pear, lemon, orange zest on the nose; apple, almond-nuts, pear, peach, caramel crème on the palate.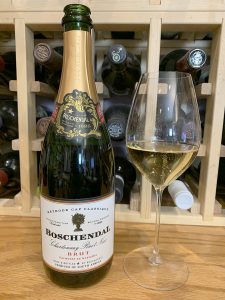 Brut; classic style from Stellenbosch. Lively mousse. Smooth, soft in the mouth with a definite citrus-lemon layer throughout. A year spent on the lees gives this depth and complexity. Medium-full body. Bright acidity (3.5 pH). Classic grapes: chardonnay (51%) and pinot noir (49%); 12.5% ABV.
Classic méthode cap classique (MCC) technique—the South African term for Champagne's méthode champenoise and EU's méthode classique. All three terms mean the same thing: the second fermentation occurs in the bottle. The final stage of this effort is called "disgorgement" when the pellet of frozen sediment from the neck of each bottle is removed. In a NV sparkling, this very roughly (very roughly) equates to a vintage date on non-sparkling wine. This bottle was disgorged in August 2017. That is not when the bottle is put up for purchase; years in bottle follow.


"Boschendal" is Dutch for "wood and dale." Located between Franschhoek and Stellenbosch in South Africa's Wester Cape, Boschendal is one of the oldest wine estates and farms in South Africa. It is an hour's drive from Cape Town. The farm occupies about 4,400 acres.
The website notes: Boschendal is a quintessential model for holistic country living. The team's vision is that the winery's future will be as remarkable as the past. It is the people that give life to Boschendal and their dream is that this extraordinary Estate will forever be a treasured home filled with new generations who will love and care for this icon of the Cape through this century and beyond.
The farm's title deeds are dated 1685. The estate's first owner, Jean le Long, was one of the party of 200 French Huguenot refugees who fled religious persecution in Europe. The Boschendal estate includes the original Cape Dutch manor house, which is open to visitors, together with associated restaurants and outbuildings and visitor attractions. The estate includes the Manor House, the Verf Restaurant, a café/deli, historic gardens and luxury accommodation.
The website also notes it was not always this way. "As recently as five years ago, Boschendal was in a state of ruin and disrepair employing fewer than 50 people. Five years later and with the help of committed investment, Boschendal is revitalizing and is proud to employ 550 people. We planted 600 000 new fruit trees and commenced an ambitious regenerative agriculture project to restore our soil ecology."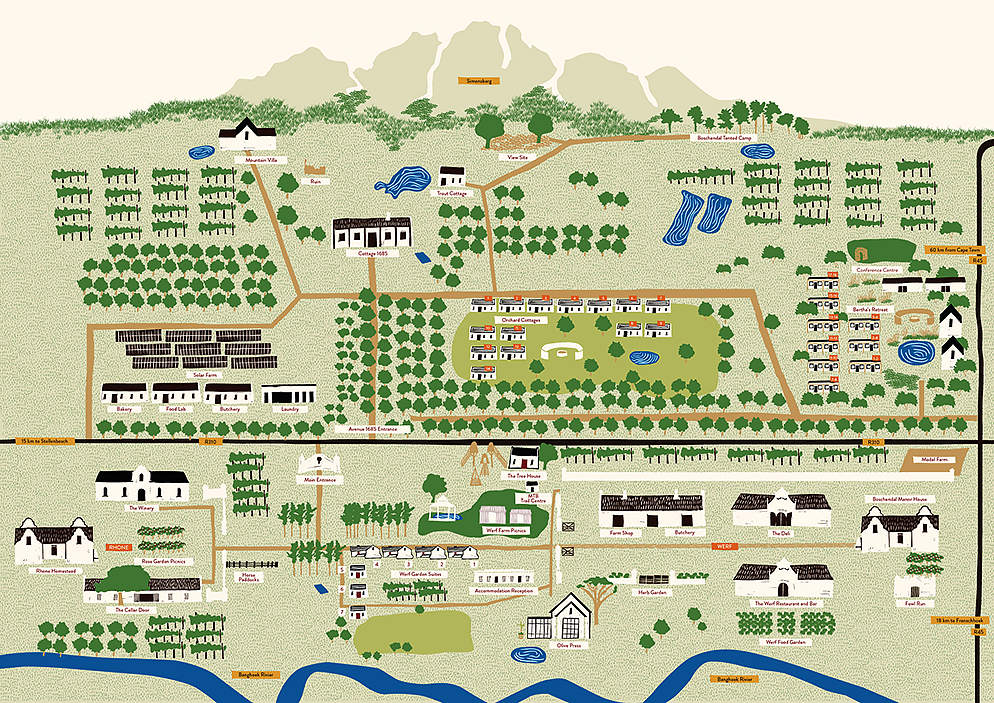 The operation today is environmentally progressive. The website: "Boschendal is also the first farm in the Cape Winelands to be awarded world-renowned environmental and animal welfare certification from A Greener World. Certified Animal Welfare Approved by AGW is the only higher animal welfare certification in South Africa and the standards of this programme were developed with the help of veterinary and farming experts from across the globe to encourage and maximize high-welfare farm management that is practicable."
Boschendal Brut Chardonnay Pinot Noir, South Africa NV is excellent sparkler, especially for the price, made in the traditional manner of second fermentation in the bottle. Correct profile for chardonnay-pinot noir sparkler. Works well as an aperitif and as a toasting wine at an event. Pair with shellfish, seafood, sushi; very nice with strawberries. $20-24