Deep ruby color; whiskey barrel, red fruits, blackberry, tobacco on the nose; whiskey barrel, blackberry, dark fruits, maple, spice, smoke and oak on the palate.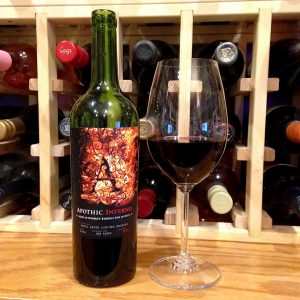 Dry; sweetness illusion from the fruity grapes and 15.9% ABV, some balancing acidity (3.69 pH). Full body, smooth. Pretty much a one-trick pony. Big fruit, big alcohol, oak and whiskey flavors dominate—especially on the finish. I consider this more an alcohol beverage than a wine. There is no subtlety. Whiskey barrel oak pounds away with alcohol cavalry surrounding the flanks, fruit foot soldiers contribute something to the melee in the mid-palate.
Spent 60 days in deeply charred white oak whiskey barrels. Only 60 days? Whew, a lot was accomplished in two months. Kitchen sink blend of zinfandel, merlot, syrah, petite sirah, cabernet sauvignon, petite verdot, but those fruits really don't matter except to serve as a carrier for the bourbon barrel flavor.
Bourbon barrel wines typically are high alcohol, big fruit, emphasis on the bourbon barrel flavor, and this Gallo effort certainly lives up to that profile in spades. There are people who think this is the best stuff they ever drank getting drunk, and—God love them—they have a place in the wine world, too. If you are into etherial Willamette Valley pinot noir, try one glass of this to taste how the other half lives.
As in other bourbon barrel efforts, I find the second glass seems rounder and more approachable. I am not sure if it is because of having some time to breathe, which must be part of it—allows some of the bourbon barrel notes to blow off to reveal the maple and hints of red fruits—but the 15.9% alcohol frying my taste buds and brain also plays a part.
Apothic Wines Inferno 2016 is a wine beverage that clearly has a devoted following of sybaritic drinkers. It is hard to pin down if this is a wine or a by-product of bourbon production. If you enjoy bourbon, you most likely will enjoy this wine just fine. Pair with rich red meats and similar satyric fare, but its true métier likely is guys and dolls sitting around a campfire smoking stogies, drinking this out of red Dixie cups, sharing fables. $15-17
Grapes are gathered in various vineyards. Winemaking is done in Gallo wine factory. There are no pictures of Apothic acres or enchanting wineries.