Pale straw color; apple, melon on the nose; apple, yellow watermelon, lemon on the palate.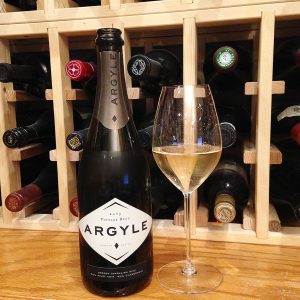 Dry, crisp, bright, very clean, pleasantly smooth and round, bread notes and hints of honey on the finish, especially after some air. Blend of 60% pinot noir, 40% chardonnay. Racy acidity, minerality, nicely active and persistent perlage.
Brian Croser and Rollin Soles came to Oregon's Willamette Valley in the mid-1980s to find a location to grow pinot noir and chardonnay. In 1987, they began producing sparkling wine using méthode champenoise and the classic grapes of Champagne (pinot noir and chardonnay). By 2000, Wine Spectator named Argyle "Oregon's Premier Winery."
Argyle farms three vineyards. Knudsen Vineyard is 120-acres planted between 1972 and 1974. The Lone Star Vineyard consists of 160 acres on the east slopes of Eola Hills. Spirit Hill is 135 acres in high elevation site of the windy Van Duzer corridor of the Eola-Amity Hills AVA. Neither the winery's website nor the bottle label gives source of grapes, but since it is labeled Willamette Valley AVA, likely the grapes came from the Knudsen old vines.
Argyle is LIVE certified, meaning the winery supports sustainable viticulture practices that reduce reliance on synthetic chemicals and fertilizers and promote biological diversity. They are certified salmon-safe, an important thing in Oregon-Washington State to preserve the salmon rivers. They also are big recyclers; the trays used in shipping their wines contain at least 97% recycled content (note the "at least"). Admirable.
Argyle Vintage Brut Sparkling Willamette Valley 2013 is rich in the mouth, precise, correct for a sparkling made in Champagne style and method. It is the product of responsible stewards of the land, using farming practices that reflect in the clean, correct bubbly in this bottle. $19-26