Medium gold color; faint lime, yellow apple, floral nose; melon, green apple, peach, lime, honey on the palate.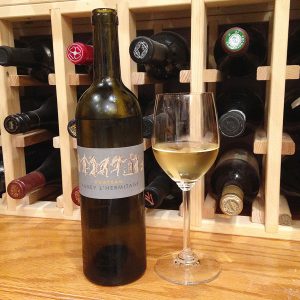 White Bordeaux blend of 65% sémillon, 20% mascadelle, 15% sauvignon blanc. Sémillon brings its slightly waxy and oily elements (aka beeswax) to go with the melon and stone fruits; full body, nice acidity and citrus notes boosted by the sauvignon blanc on the nicely palate-cleansing finish. Great food wine.
The winery was known as Château Le Chec until 2012, but long-time owners Sylvie and Christien Auney changed to highlight their names as Château Auney. The château focuses most of its production on sémillon for whites and merlot for reds. The property has been assembled through reclamation of 10 small domains totaling 21 acres. Many of the properties were just small clearings in the woods planted to vines by small farmers dating back to the 1800s. Many plots were abandoned or virtually abandoned. Christien choses to maintain the separation so each plot has its own, distinct terroir. Many of the plots were ignored for so long they have never experienced modern pest control, and with the name change in 2012 Château Auney committed to all certified organic practices.
Château Auney is the only estate harvesting manually in the La Brède commune, due to the size and separation of its parcels. Christien also believes this allows his team to harvest at the optimum time for each plot. The grapes for this effort come from a five-acre plot with gravel (this is a Graves appelation), clay, and limestone soils. The wine is then aged in 400-liter oak barrels for nine months with regular stirring of the lees.
Château Auney l'Hermitage Graves Blanc 2014 excellent, virtually hand-made, classic white Bordeaux that will do very well with food. Château's commitment to organic practices and little historic use of chemical pesticides and fertilizers is nice plus. $29
Photos: Château Auney l'Hermitage, Sylvie and Christien Auney