Dark purple color; blackberry, crème de cassis, licorice, leather on the nose; blackberry jam, blueberry, plum, chocolate caramel, spice on the palate.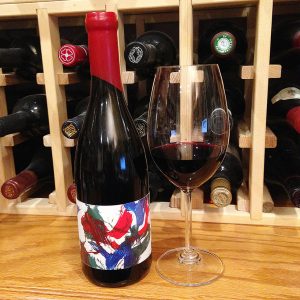 Dry; medium-full body but massive entry of dark fruit and fruitiness with tobacco trailing behind; lush, lavish, huge flavors. Juice was held on the skins from 30 to 60 days to achieve the intensely dark color, big fruit, and tannin. Significant tannin and oak, but there is integration and balance so this does threaten to get out of hand. Oak program included 24 months in 63% new French oak, 19% once-used French oak, 18% twice-used French oak for this vintage. Vanilla and oak spice, blackcurrant present on the mid-palate and the polished finish.
This is such a huge wine you can toss just about any dark fruit or syrah descriptor you want into the mix; there is even smoked meat elements here. The ABV is 15.5%, but like everything else in this pour, deft balancing and integration prevents it from becoming too hot and burning up the flavors or pounding your palate into insensibility.
The pop-and-pour first glass presented well, but the subsequent decanted pours showed a wine with more sophistication and less brawny power while retaining the opulent fruit and layers of flavors.
Austin Hope Wines state their mission is to make "spectacular estate-grown, Rhône varietal wines. Using native clones, high-density vineyard planting in our Estate Vineyard located in the Templeton Gap, one of the coolest sub-AVAs of Paso Robles, the Austin Hope wine are bold, flamboyant and expressive." They achieved their mission with this offering.
Austin Hope is a real person who makes wine. The Hope family has farmed in Paso Robles for more than 30 years. He went to Cal Poly and apprenticed under Chuck Wagner in the Rhône Valley. This is an artisanal wine, thus it may be difficult to find. You will not find it in a grocery store or mom-and-pop liquor store around the corner. Austin says he makes wines because he enjoys drinking wines. That seems like a good foundation for a distinctive wine from a rising star in American winemaking—Paso Robles.
The Paso Robles AVA is located in San Luis Obispo County, halfway between San Francisco and Los Angeles. The AVA is huge—614,000 acres—with 32,000 vineyard acres and more than 200 wineries. As a result, it is divided into 11 sub-areas. It is the fastest growing AVA in California. This effort comes from the Templeton Gap, a sub-AVA just south of the city of Paso Robles and site of many of the AVAs top makers. Paso Robles, btw, means "Pass of the Oaks" in Spanish.
The bottle is sealed in wax which can give you pause on opening. While I completely remove the foil cap when I open bottles, you do not do that with wax. Insert your corkscrew and pull the cork out, breaking a hole in the wax in the process. I use a Burgundy-pull technique where you insert the worm, then pull straight up, not using the leverage of a hinged opener.
Austin Hope Syrah Paso Robles Templeton Gap District 2014 is huge, fruity, hedonistic wine. Food pairing requires hearty meat dishes, anything light or delicate will be massacred—no fish, chicken, most pork (maybe baby back ribs with rich barbecue sauce could survive). $48-55