Medium ruby color; cherry, strawberry, mocha, vanilla on the nose; blackberry, blueberry, plum, candied red fruit, oak, vanilla on the palate.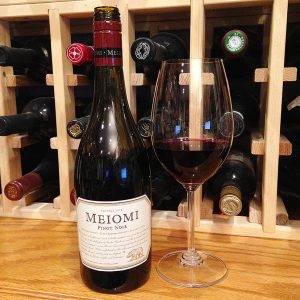 Dry, average acidity (3.68 pH) for red wine, supple tannin; very big in the mouth for pinot noir; intense flavors, round, smooth, jammy, plenty of oak sweetness and vanilla. Made with 60% grapes from Monterey County, 23% from Santa Barbara County, 17% Sonoma County; spent six months in 100% French oak.
Meiomi means "coast" in native Wappo and Yuki tribes, and Meiomi focuses all its production on fruits from the three costal areas used in this creation. Constellation Brands bought the brand from founder Joe Wagner for $315 million in 2015 (Wagner is the grandson and son of the owners and winemakers of Napa's icon cab, Caymus). This is the second vintage under the new owners, but it builds on what Wagner started.
The rap on Meiomi is some of the fruit is second-level of quality to achieve its massive production numbers, also the winery only steers toward mass market tastes and sales—thus the jammy, big red fruit and fruitiness of this wine. Last vintage, I criticized Meiomi Pinot Noir as being an over-extracted, over-done, heavy California PN made for men who really want to be drinking a more expensive Napa cab. That said, there is a large audience for this style of wine, and that audience likely will love this effort. Constellation Brands did not become one of the largest wine and beer companies in the world by not knowing how to play to consumer tastes.
Melissa Stackhouse is the winemaker today; Wagner has gone on to found other labels. Stackhouse is a well-regarded UC-Davis grad who worked at La Crema, Jackson Family Wines, J Vineyards and Winery, and Clos du Bois. The Meiomi website asserts Stackhouse "creates wines of bold character and harmony—rich and ripe, with expressive depth and taste." I could not argue with that.
Meiomi Pinot Noir 2016 is tasty example of a particular, muscular, fleshy, big-fruity style of California pinot noir. It enjoys a wide audience that obviously appreciates it—the winery produces something like 750,000 cases of this each year. This will pair well with pizza and tomato-based pasta dishes, pork, wild game meat such as venison (where the sweetness and non-assertive tannin will be a real plus), grilled lamb, and turkey. I think it is too big and too fruity for salmon, normally a classic pinot pairing, but I would not recoil from pairing with a thick blackened salmon steak. If this pleasures your palate, don't hesitate to pull the trigger on a pour. $21-25