Medium copper color; strawberry, cherry, mint on the nose; strawberry, watermelon, black cherry, tropical fruit on the palate.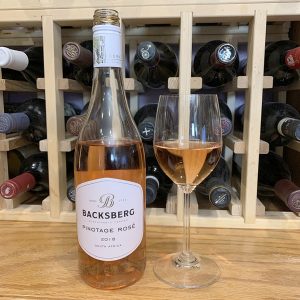 Dry; low tannin; bright, fruity, delicious. Low acidity—that is feature for pinotage grape. Simple and easily approachable. White zin without the sugar load, also with more body and substance. No oak; all stainless steel fermentation. Cool fermentation brought out fruitiness.
Pinotage is a cross between cinsault and pinot noir. Created in South Africa in 1925, it is signature grape for that country. The surprise is it is tastes bolder than either of its parents, but—as with white zin—brief skin contact tones down the boldness. But does not eliminate it. This has some depth and interest on the mid-palate. This is not a white zin doppelgänger. If you are a white zin fan, this would be an easy step up into more serious/complex wine; 12.5% ABV.
Backsberg traces its roots to C.L. Back who fled to South Africa as a religious refugee from Lithuania at the turn of the last century. He worked hard, purchased a butcher stop at the Paarl train station. Then parlayed that into land that is today's Backsberg Estate Cellars. It was a farm at first, then began growing grapes in the 1920s. Sydney Back joined his father in 1936. Grapes were grown, but mainly appeared in lower-end efforts under the Back's Wine label.
The family sold the label in 1969, but retained the land. In 1976, Michael Back joined the enterprise after graduation from Stellenbosch University. He began expansion and development of the Backsberg Estate. After Sydney died, Michael dialed back the extensive agricultural effort—pork and meat processing—and focused on quality wine. In 2008, Michael's sone, Simon, joined the team and is part of management today. Backsberg was one of many South African wineries that turned from mass production juice and plonk wine to quality—the South African revolution. This bottle is an example of that.
Restrain is Backsberg's philosophy of winemaking. From the website: "Tread lightly—wines made with love and respect for the land. To read lightly is to step with care; to mindfully leave no trace. It means acting with gentle intention, while existing harmoniously within a greater ecosystem. We take care of our land because it is home. Producing wine sustainably is not a chore—it is simply what we do and what we love."
Backsberg Estate Cellars Pinotage Rosé, South Africa 2018 is a delightful introduction to pinotage dialed back to make a lithe and easily approachable rosé. This will pleasingly engage a range of palates. A step up in complexity for white zin devotees, but not nearly so simple and elementary as to offend those into more serious, complex wines. Nice introduction to South African wines today, too. Pair with lighter fare at lunch—quiche, pastry, charcuterie, platers of olives and cheese; French bread. Works by itself as summer sipper on porch, patio, poolside, dock. Lovely color makes it attractive aperitif. $13-15