Pale straw with hint of green color; white flowers, golden apple on the nose; golden apple, pear, lemon, honeydew melon on the palate.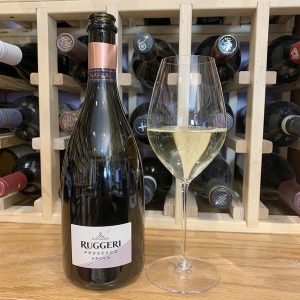 Brut; nice creaminess; fresh, delicate, balanced. A very nice expression of entry-level prosecco. Glera grape with small amount of verdiso and perera (two ancient grapes native to Veneto/Prosecco region; these come from very old vines—Ruggeri believes they add a touch of class and complexity). Brisk acidity. Vigorous perlage, tiny bubbles; 11% ABV
Giustino Bisol established the Ruggeri winery in 1950, building on deep roots the Bisol family had in winemaking in the area. Today, the winery is run by grandson Paolo Bisol and his children Isabella and Giustino. Although they are in the wine business, Paolo was a physician, Isabella studied art history, and Giustino has a PhD in ancient philosophy. The modern winery processes some 3,000 tons of grapes a year, and for the past two decades has produced one million bottles annually; 65% goes to domestic consumption, the remainder is sold in 35 countries around the world.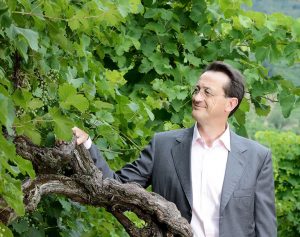 According to Isabella, who often serves as spokesperson for the winery, they are concerned with the explosion of the Prosecco market and all the new acres of vines being planted. Her family's operation focuses on high quality Prosecco—this bottle is an example—while some large wine companies gear toward commodity production, which Isabella fears will damage the Prosecco image and brand. And so it goes when any grape or style takes off in the wine world. Eventually the profiteers jump on the bandwagon to make some fast dollars and debase the quality reputation (think commodity pinot noir). Equilibrium eventually comes. If you want to enjoy Prosecco, go with established, quality makers. A DOCG band on the bottle is strong guarantee, but it adds another $5 or so to the price. Still, Prosecco remains a tremendous value and a delicious sparkling wine choice.
Ruggeri Argeo Prosecco DOC Treviso NV is crisp, simple, delicate sparkler. Acidity and clean flavors. Lively in the mouth with persistent bubbles. Nice touch of lemon on the mid-palate. Delivers nicely for a DOC prosecco (DOC is the basic quality level in the Italian designating system). Works well as an aperitif; pair with lighter fish; hors-d'oeuvres; light first courses; antipasto; cured meats; almonds; also with spicy Asian food. $16