Deep ruby color; black cherry, red fruit, violets on the nose; tart cherry, plum, redcurrant tang, cedar on the palate.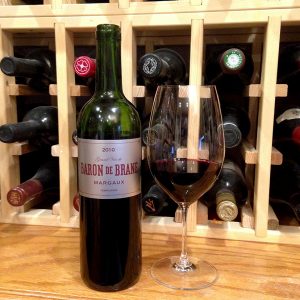 Dry; smooth, focused; fine soft tannins—thanks to the merlot and seven years of age. This is just moving into its prime drinking window according to the winery website. A blend of 53% cabernet sauvignon, 47% merlot, this is the second wine of Château Brane-Cantenac—their top shelf efforts cost well north of $100 and consistently earn Parker and other scores of 95-plus.
What is known today as Chateau Brane Cantenac started in the early 17th century when the then-small estate was known as Domaine Guilhem Hosten. The wine was so highly regarded, it was one of the more expensive wines in all of Bordeaux, selling for almost as much money as Brane Mouton.
The Baron of Brane, known as "Napoleon of the Vineyards," purchased the chateau in 1833. At the time, the estate was called Chateau Gorce-Guy. To pay for the Margaux vineyard, the Baron sold what is now Mouton Rothschild, then known as Chateau Brane-Mouton. In 1838, the Baron renamed property, taking his name and the name of the sector where the vineyards were located, calling it Chateau Brane Cantenac.
In 1920, the Societe des Grands Crus de France, a group of merchants and growers that owned several chateaux located in Medoc, including Chateau Margaux, purchased Chateau Brane Cantenac. Five years later, M. Recapet and his son-in-law, François Lurton, took over Brane Cantenac along with Chateau Margaux.
Lucien Lurton (the son of François Lurton) inherited Brane Cantenac in 1956. Today, the estate is still in the hands of the Lurton family. Brane Cantenac is currently owned and managed by Henri Lurton, who initiated a large replanting program when he took control. Vine densities were increased, drainage systems were improved, and plantings were slowly changed to their current plantings.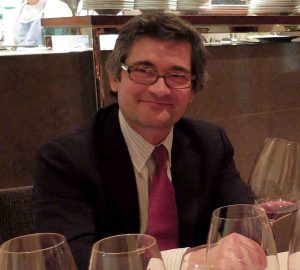 Henri Lurton also has international ambitions. In 2015, he started a new project in Ensenada, Mexico. Henri Lurton manages the Mexican winery with the help of his oldest sons, Vincent Lurton, Nicolas Lurton and Maria Martinez, who was previously at Brane Cantenac. The wines are sold under the Bodegas Henri Lurton label.
Margaux is a wine growing commune and Appellation d'Origine Contrôlée within Haut-Médoc in Bordeaux centered around the village of Margaux on the left bank. The region contains 21 cru classé, more than any other commune in Bordeaux. It is the second largest appellation in Haut-Médoc, after Saint Estèphe.
Baron de Brane Margaux de Henri Lurton 2010 is the real deal Margaux wine with all the depth and power you can expect, at a price significantly less than the high-end bottles. Pair with classic meat dishes, veal, pork, beef, lamb, duck, game, roast chicken, roasted, braised and grilled dishes. Chateau Brane Cantenac is a perfect match with Asian dishes, hearty fish courses like tuna, salmon, mushrooms and pasta as well as cheese. $35-50