How much do you spend on a bottle of wine, and how do you compare with your fellow wine buyers? Here are statistics from recent survey of 340,000 U.S. wine individual buyers: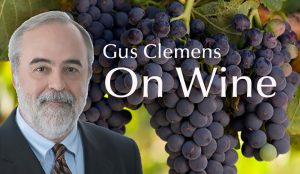 The market for lower-end wines continues to plummet. People who spend less than $10 on a standard 750 ml bottle were only 10.35 percent of those surveyed.
Those who spend between $10 and $15 were the most numerous—37.3 percent. Closely behind were those who spend between $15 and $20—28.07 percent. The $10-20 range is the selling sweet spot at a wine store/supermarket—they make up almost two out of three wine buyers.
Those who spend between $20 and $30 were 14.65 percent of those in the extensive survey.
Those who spend more than $30 were 9.63 percent of the survey. Almost one out of four wine buyers spend $20 or more, more than twice as many as those who spend $10 or less.
The recognition that a quality wine experience is worthy of an investment is major reason there are so many superb wines available today. With that in mind, tasting notes today include better wines to consider. If you need fiscal succor, after the first bottles of good stuff, you can go to lower priced pours without notice or scorn. Your holiday meal or end-of-year gathering does not have to compete with the Wedding Feast at Cana.
Tasting notes:
• Masciarelli Marina Cvetić Merlot 2010: Big merlot, vivid fruit, pair with wild game, lamb, barbecue. $33-38 Link to review
• J Vineyards & Winery Pinot Noir Russian River Valley 2014: Extraordinarily smooth, balanced, delicious, versatile food pair. $33-40 Link to review
• MacMurray Estate Vineyards Russian River Valley Reserve Pinot Noir 2014: Fruit forward, pairs with most holiday feast foods, good value-for-price. $35-43 Link to review
• Moët & Chandon Impérial Champagne Brut NV: Classic, iconic sparkling lives up to its hype; pairs with everything. $38-50. Link to review
• Penfolds Bin 389 Cabernet Shiraz 2013: Big, bold, approaches world-famous Penfolds Grange at one-tenth the price; pair with beef, bison, lamb. $40-69 Link to review
Last round: Nothing is better than a good glass of wine. Wait, no. Two good glasses of wine. Wait, no. Three glasses of wine. If you are reading this column, you know where this is going.
Email Gus at wine@cwadv.com. Facebook: Gus Clemens on Wine. Twitter: @gusclemens.