Deep copper-brass color; orange citrus, caramel, brandy, honey on the nose; mandarin orange, nectarine, fig, caramelized sugars, honey, maple syrup, nutty oxidation on the palate.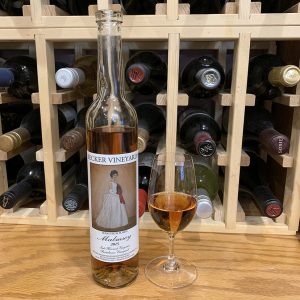 Sweet dessert wine; a fascinating and successful effort to make a Madeira-style wine. Rich and viscous in the mouth. Some acidity to complement the sweetness; 19.8% ABV.
The winery explains the making process: "It begins with grape growers willing to allow some of the best Viognier grapes to hang on the vine, weeks past anticipated harvest dates. As the grapes raisin on vine, the sugars concentrate at 30%, creating a sticky, sweet mess. Fermentation occurs at low, cool temperatures until all that remains is 12% residual sugar at which point we fortify to 20% alcohol, which halts fermentation. The wine is then aged in neutral barrels, outside in the hot Texas sun. All of this results in wine filled with notes of caramelized sugars and maple."
The viognier grapes come from Farmhouse Vineyards near Brownfield in the Texas High Plains AVA. Malmsey—an English corruption of malvasia—is closely associated with the Portuguese islands of Madeira, where the grapes are used to make a Madeira wine called malmsey. The Becker effort, of course, is not a Madeira Malmsey. Becker doesn't use malvasia grapes or the exact Madeira method, but they do come up with an amazingly similar product. The aging in neutral barrels under blazing Texas sun is a Texas way to imitate the Madeira estufagem system that heats the wine to imitate a long sea voyage through tropical climates.
The label on the 500 ml bottle is now poignant. Dr. Richard Becker explains on the label: "This painting of Mary Clementine Becker was produced by her late father, Dr. Eugene Ellison at the time of her debut. She and our daughter, Mary Clementine, opened the Becker Vineyards tasting room in 1996. This wine is named for the two great Clementines in my life. Viognier has been the great lady of the white varietals produced in Texas." Mary Clementine "Bunny" Becker was one of the pioneers and driving forces in Texas wine. She passed in August 2019.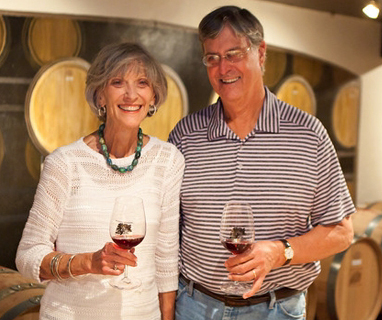 Becker started when Dr. Richard and Bunny Becker sought a Hill Country getaway from their lives in San Antonio. They found it in Stonewall, Texas, halfway between Fredericksburg and Johnson City (17 miles away from Fredericksburg). First imagined as a small operation, it soon blossomed and Becker now runs with the big dogs.
Becker is the largest buyer of French and American oak in Texas and produces 140,000-plus cases a year, allowing for extensive distribution, something most Texas wineries have yet to achieve. It also gives them the freedom to perform experiments such as this charming offering.
Becker Vineyards Malmsey Late Harvest Viognier 2015 is a marvelously delicious dessert wine, a Texas homage to Madeira Malmsey that nicely succeeds. Highly recommended. Clearly you can sip this solo and count it as your dessert. It also can pair with walnuts and hazelnuts; mango and passion fruit; dried fruits, especially apricots; blue cheese, old hard cheeses, and seasoned cheeses; cheesecake; almond biscotti; dark chocolate; pastry with nuts and honey. $35